Oral-B Smart 4000 Electric Toothbrush Review
Oral-B Smart 4000 Electric Toothbrush Review
The Oral-B Smart 4 4000 Electric Toothbrush has been a favourite amongst Australians who are looking for good quality yet well priced Electric Toothbrush.
With plenty of features and just the right amount of brushing modes to remove '100% more plaque' than a normal manual toothbrush', the Oral-B smart 4000 could be the toothbrush you are looking for.
Let's help you decide as we run through all the 'need to know' points and features of this toothbrush.
Disclaimer: Dental Aware is supported by its readers. If you click on one of the links below and buy something, Dental Aware may make a little bit of money at no additional cost to you. We only promote products that our team truly feels will be valuable to you in improving your oral health.
Full Review
The Oral-B smart 4 4000 Electric Toothbrush can best be described as a 'middle of the road' electric toothbrush that gives the consumer the benefit of having 3 modes of brushing and Bluetooth capabilities.
With online discounts currently on offer, this toothbrush represents great value, but more on that later. Let's discuss the features it comes with.
Oral-B Smart 4000 Electric Toothbrush Features
The 4000 electric toothbrush has 7 features that make it user-friendly and attractive.
Oral-B states that it removes 100% more plaque as it has a round brush head that cleans better compared to a manual toothbrush over a 30 day period.
Pressure control protects your gums from potential damage.
Oral-B states that it can whiten your teeth from the first day of use as it removes surface stains.
2-minute professional timer aids in brushing your teeth for the right amount of time.
3 brushing modes give you plenty of choices when brushing your teeth, from daily clean, whitening and sensitive.
Bluetooth connectivity and Oral-B app feature to track and monitor your brushing.
Lithium-ION battery giving you 2 weeks of use from 1 charge.
My First Impressions
I was pleasantly surprised at how lightweight the unit was and that there was a travel case included in the box. I thought that was a nice touch but after some research, not all 4000's come with a travel case.
The handle seems to be quite ergonomic in design and it's great to hold. I really like that there are 2 brush heads with this electric toothbrush, saves me buying additional ones.
Excited to use to Bluetooth function, quite fancy!
Packaging and What's Inside
The Oral-B 4000 Electric Toothbrush is packaged very nicely and everything is securely housed and protected within the box.
The design and vibrant colours stand out and are very eye-catching. I found there was plenty of important information on the packaging, making it easy to reference if needed.
Inside, you will get the following:
Toothbrush Handle with Bluetooth connectivity.
3 x Brush heads – Cross Action, 3D White, Floss Action.
Power charger and brush head tray.
Travel case (only available through some retailers).
Instruction manual.
Smart 4000 Handle
The Smart 4 4000 handle is beautifully designed and well made. As soon as you hold the handle you are surprised by how light it is.
3 modes of brushing are easy to select, with only 1 button to push to go through the modes of choice.
Indicating lights towards the base of the handle is simple to read and clearly stands out when things change, such as warning you about battery life.
The handle stands confidently by itself and doesn't tip over easily and once on the charger base it is positioned securely.
Oral-B Brush Heads with the Smart 4000 Toothbrush
There are 3 brush heads that come with this Smart 400o Electric Toothbrush, which is perfect!
You get the Cross Action, 3D White and Floss Action brush heads.
Cross Action is your daily clean preferred head, with the 3D White aimed at polishing your teeth for whiter results. Floss Action brush head is also worth trying. I gave them all a go and preferred the standard Cross Action.
The brush heads are easy to clip in and out of the handle. Each brush head provided a slightly different brushing experience, which was great if i wanted a more thorough clean.
Smart 4000 Brushing Modes
You have 3 brushing modes with the Smart 4000 by Oral-B. Each has a slightly different vibration and feel to it.
The first is your standard Daily Clean, which offers a decent brushing experience.
The second is for whitening your teeth. There is a polishing action that is applied and coupled with a whitening toothbrush such as Oral-B Glamorous 3D White Toothbrush, whiter teeth are only a few brushes away.
The final brushing mode is sensitive. I found this the best mode as it is thorough enough but doesn't cause any discomfort while you brush. It is definitely the preferred option if you have sensitive teeth.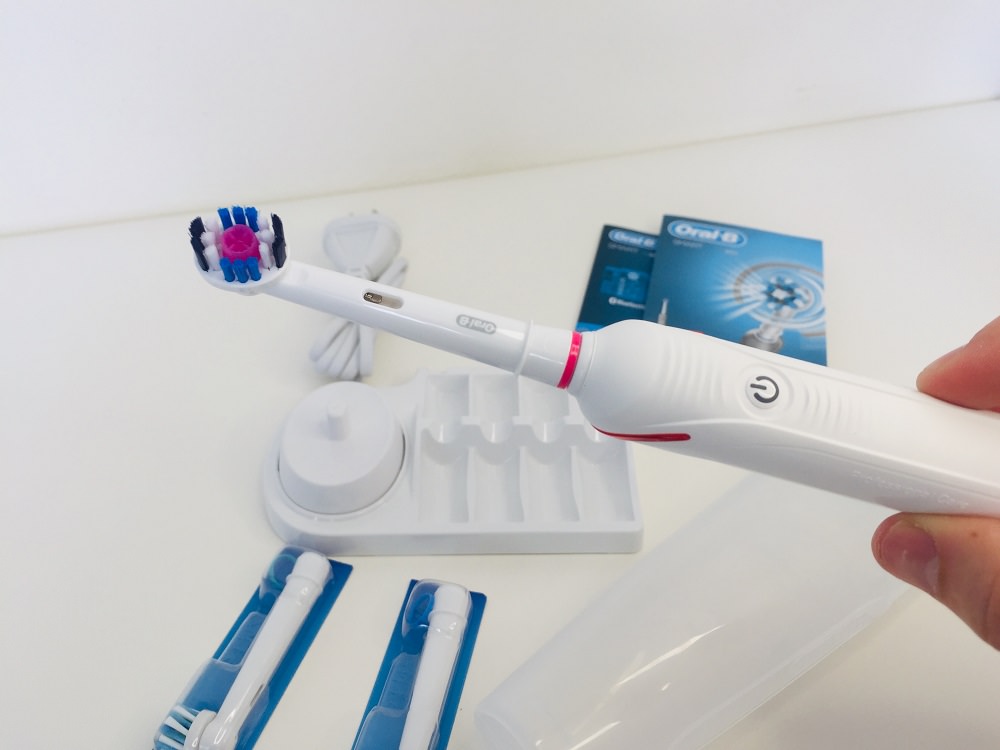 Charging Your Oral-B Smart 4 4000 Toothbrush
A very straightforward charging setup that also provides a holding function while the toothbrush is waiting for the next time to be used.
When first using your Oral-B 4000 toothbrush, it is a recommendation to give it a full charge. This is easiest to do overnight and it will be ready for the morning.
Oral-B states that one charge gives you 2 weeks of use, I found that was true during my review period.
Overall, charging is super easy and very functional and battery life was fantastic.
Bluetooth and App Features
With your Oral-B Smart 4000 Electric Toothbrush, it comes with Bluetooth connectivity which is capable of syncing with the Oral-B App.
For people who love to track their progress or want to know if they can improve on themselves, this app is a great feature.
Simply download the App on your iPhone or Andriod and follow the prompts. The phone will connect once it picks up the signal.
All data is then relayed back to the app and you will be able to see a host of information about how you brush your teeth.
The App can show you the following:
Shows you the % of your teeth that have been covered while brushing.
Calculates the amount of time you've spent brushing your teeth.
Provides a snapshot of your brushing.
Gives you a daily score after brushing.
Price and Value
Currently, you can pick up the Smart 4 4000 Electric Toothbrush by Oral-B for around $100.00.
At this price, it represents good value for money as the retail recommended price is $199.00. So this is a 50% saving!
With Oral-B, you have a huge range of different brush heads on offer as well as a great product warranty. Not to mention a 180-day money-back guarantee but terms and conditions apply.
I think for $100 you are getting a good quality product that will last.
Oral-B Smart 4000 Reviews
There are plenty of positive reviews about the Smart 4000 Electric Toothbrush.
No matter if you jump on Amazon, Google shopping or individual online shops such as Shaver Shop or Myer, this toothbrush is rated highly.
66 Amazon customers give it a 4.7-star average rating out of 5. That gives you a decent pool of people so you know there is weight in the outcome and overall experience with this product.
On the other hand, Myer has 22, 5-star reviews and ratings.  All positive and happy customers!
What's the Difference between Oral-B 2000 and 4000?
This is a question which asked a lot and it comes down to brushing modes and Bluetooth connectivity.
The Pro 2000 is a solid toothbrush for anyone just starting out and wanting to try an electric toothbrush.
The 2000 Electic Toothbrush comes with 2 modes and has a professional built-in timer, like the 4000.
However, that is where the similarities end.
The 4000 is quite a big step up, in terms of user experience and features.
You get 3 modes of brushing, Bluetooth connectivity that syncs with the Oral-B App, 3 brush heads and depending on who you purchase the product from a travel case.
My recent review of the Oral-B Pro 2000 looks at this electric toothbrush in detail.
Overall
As a person who mostly uses good old fashion manual toothbrushes, using the Oral-B Smart 4 4000 Electric Toothbrush was definitely a positive experience.
I was very pleased with how my teeth felt after each clean and will continue to use the Oral-B Smart 4 electric toothbrush.
Two thumbs up!
Have you tried an Oral-B Electric Toothbrush before? Let us know what you thought of it?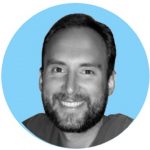 By Andrew Adams
Created at April 01, 2021, Updated at December 09, 2021