Dental Implants Costs – How to Negotiate a Better Deal
Dental Implants Costs – How to Negotiate a Better Deal
If your Dentist has just advised you that you need dental implants, you may find yourself thinking – what are the average dental implant costs?
The costs can vary widely, ranging from an average of $5500 to $6000. This depends upon a number of factors, including;
Your location (the price changes a lot throughout the states of Australia).
How much work is needed (that is, how many teeth you are replacing, so how much time it will take).
Today I will talk about the cost of dental implants in each state and territory – New South Wales, Victoria, Queensland, Western Australia, South Australia, Tasmania, the Australian Capital Territory, and the Northern Territory.
I will discuss why they cost so much. I will talk about what can fail, and how much it will cost to fix the faults. I will also discuss the cost of a dental implant vs crowns, vs bridges, and vs dentures.
Please note: All general dental information in his post has been referenced and confirmed by our resident Dentist, Dr Veronica Roller. As we don't know your personal situation, it is advisable and recommended to seek direct advice and consultation with your dentist before deciding on a course of action.
Dental Implant Costs in Each State
As mentioned, the price per implant changes depending upon where you live.
Below, I will run through the average prices of a dental implant in each state/territory of Australia.
Dental Cost Calculator
We have found the average implant cost by using our Dental Cost Calculator.
This free tool is great because you search either by dental treatment, Symptom or by Item code, making it simple to compare the average cost of any dental treatment, Australia wide.
This is the average price only, some Dentist may charge more or less.
Why Do They Cost So Much
A dental implant is a costly procedure as there are many different elements involved, including;
The surgery
The implant itself
All the materials and hardware that go into inserting and attaching the implant
Lab fees
Firstly, to make an implant that fits your mouth perfectly, the Dentist will have to purchase;
The implant itself, and once this is put in
Special implant abutment, that makes an impression in your mouth
The implant abutment is made from a very expensive metal, known as "implant expression coping".
But it is an essential piece of hardware – it is what gives you an implant that duplicates the look and function of your natural teeth as close as possible.
Then, there will be additional costs with the laboratory – they too must order in some materials, which allow them to attach the crown to the implant.
This can cost an extra $400 to $500 alone.
Additional items that then also need to be used are;
An abutment that attaches to the crown
A little screw that holds the crown into that, effectively holding the crown in place
So, the whole process is expensive for everybody that is involved.
What Can Fail and What is the Price to Fix?
Unfortunately, an implant can fail. Sometimes this can happen without your Dentist even knowing the reason why.
Basically, it can just pop off your tooth and fall out of your mouth.
If this happens within a matter of days or weeks after the procedure was finished, the Dentist might;
Send the implant back to the supplier, and have them perform some tests on it, so they can determine why it failed.
Then, redo the implant for you, at no added cost.
This, however, is up to each individual practice to decide.
Dental Implant Cost vs. Crowns
The price of a dental implant compared to the price of crowns is quite a lot more, as can be seen below.
Dental Implant Costs vs. Bridges
There is not much difference between the price of a dental implant for one tooth, compared to the price of a bridge to fill that one gap – they are fairly similar.
The average price for a 3 unit bridge in NSW is $2765.09. Where one dental implant is $5155.13.
Another look into the costs of a dental implant versus bridges is shown below.
Dental Implant Costs vs. Dentures
The price of dentures is normally cheaper than the price of a dental implant.
You can't really compare these two treatments, but for the sake of seeing the difference in price, below is what you can expect (on average) to pay in Victoria for a set of dentures.
Conclusion
The average dental implant costs vary anywhere from an average of $5500 to $6000.
This is due to a number of factors, including;
Where you live (which state/territory you live in, and also your region within that).
How much work is required (that is, if you are replacing one tooth or several, thus the length of time the procedure will take to perform)
But, they are costly as there is a lot more involved in the procedure than just the surgery you undergo.
Many expensive materials and hardware are needed to put in a dental implant, including;
The implant itself
A special abutment that is required to take an impression, ensuring your implant resembles the image and performance of your natural teeth accurately
An abutment that attaches to the crown
A small screw that holds the crown in its' place
Another $400 to $500 must be spent just on lab fees, so they can order in yet more items that are needed to attach the crown to the implant.
So, a dental implant is a very costly process, but unfortunately, it is also one that can potentially fail.
Many Dentists' have seen a patient bring the implant back into their Clinic in their hands, as it has simply fallen out of their mouth.
Many times, the Dentist does not even know why this has happened – they do not know why it just failed.
So, if this happened within days or weeks after it was implanted, the Dentist may send it back to the supplier for tests to figure out the cause of the failure.
Then, they will redo it for you at no extra cost.
Though, it is up to each individual Dental Clinic to decide whether they will choose to do this for you or not.
As they are a costly treatment, I have created a list of price comparisons for dental implants and other replacement treatments for your tooth/teeth below;
A dental implant costs a lot more than crowns
The price of a dental implant for just one missing tooth is fairly similar to the cost for bridges to fill that gap
Dentures are normally less expensive than a dental implant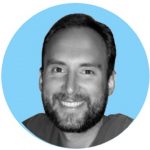 By Andrew Adams
Created at October 16, 2020, Updated at September 30, 2021