Tooth Abscess: Why You Have One and What to Do About it.
Tooth Abscess: Why You Have One and What to Do About it.

When someone mentions they have a tooth abscess, I think pain!
Don't be alarmed though.
In this post, we list everything you need to know about a tooth abscess and more importantly… What you can do about it.
We're going to answer frequently asked questions such as:
What is the best pain relief for a tooth abscess?
What are the different types of abscesses? And how they need to be treated?
What happens if a tooth abscess gets really bad?
Following the tips below will make dealing with a tooth abscess a lot easier.
What is an Abscessed Tooth?
A tooth abscess is an infection that has spread around the root to the tip of your tooth. Or to explain in simple terms,  it's a dirty bag of pus.
I know this sounds disgusting, but it's the truth! Think about when you have a burn on your hand or arm; the body contains the issue by creating a blister.
As your body walls off the infection, your body's defence system will spring into life, and that awful feeling of swelling and pain will raise its ugly head.
The infection usually starts in the tooth's 'pulp chamber', which contains nerves and blood vessels.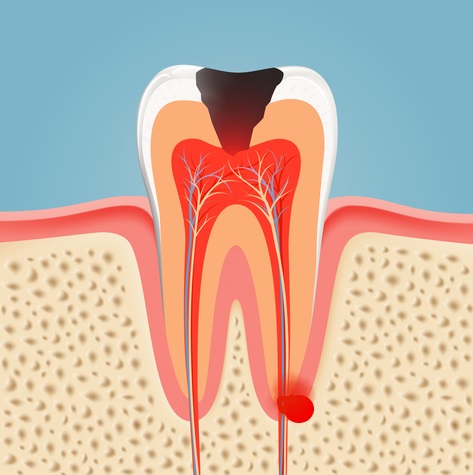 How Long Does a Tooth Abscess last?
An abscessed tooth can last for months, even years. Should your body be efficient at walling it off, it can go on for a very long time.
The swelling you feel will build and build creating a lot of pressure. Facial swelling will become evident and overtime spreading into the surrounding tissue and teeth.
A timeframe for a tooth abscess can go on for more than it should if you don't pick up the phone and call your dentist when you notice associated pain in your mouth. The sooner you do this the better!
What Causes a Dental Abscess?
In one word, bacteria!
When bacteria finds its way into the tooth's pulp, either through a cavity or crack in the tooth, it can lead to a dental abscess.
It doesn't take much for a tooth abscess to develop.
You see, all it needs is an access point, such as a tooth with decay that still has a blood supply and nerves. Without them, the abscess couldn't exist.
Common Symptoms of a Tooth Abscess
There are 6 main symptoms you must watch out for when a tooth abscess is present. They are as follows:
Tooth Abscess Treatment
Your dentist treats a tooth abscess by cutting them open, draining away the pus, and removing the source of the infection so the body can heal.
Root canal therapy is often used to eliminate the cause of the abscess.
This involves disinfecting and cleaning the area and then sealing it so that the bacteria can't grow back.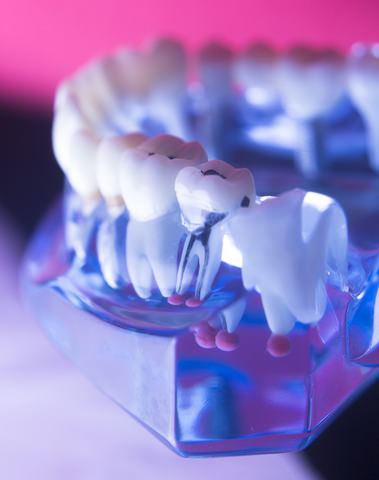 Unfortunately, in some cases, the tooth may have to be removed.
Treating a Tooth Abscess with Laser
If you have enough bone structure holding the tooth in place, the dentist will use technology such as a laser.
This process will kill the bacteria before your dentist gains access to clean out the inside of your tooth.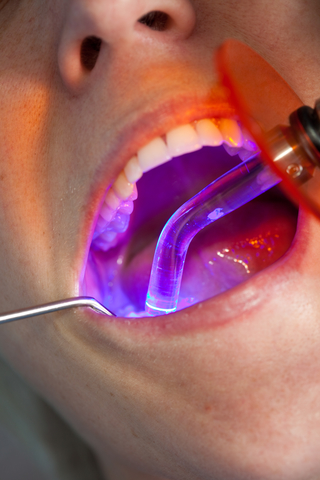 The empty canals are then filled with a special antibiotic paste and a steroid to calm down the infection and kill as much bacteria as possible.
A temporary filling will seal the hole until you come back to your dentist for the second visit, during which "time" they'll complete the treatment without there being any inflammation.
How is an Abscessed Tooth Removed?
When an abscessed tooth is broken down, decayed, or infected below the bone level, it usually can't be restored and needs to be extracted.
If it is necessary to extract your tooth, dentists will usually prescribe antibiotics to kill the bacteria first.
Ultimately, this prevents the spread of infection and reduces any pain you might feel later on.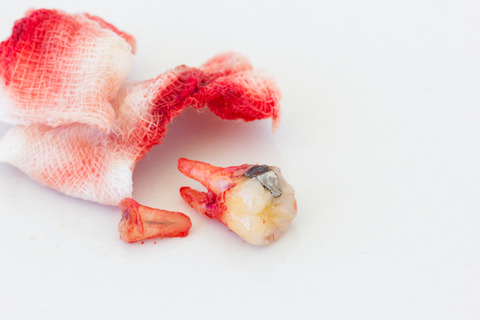 Gum Abscess
Also called a gingival abscess, gum abscesses don't involve 'pockets' around the tooth or bone loss.
Infection is usually caused by food or debris being caught in the gum area.
Tooth Abscess
A tooth abscess is a pocket of pus caused by a bacterial infection.
It can appear in different areas around the tooth, mainly the root and the gums next to the root.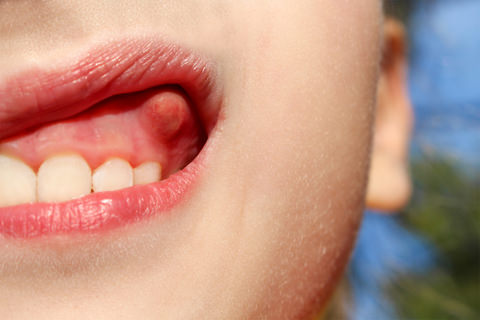 Abscess in the Mouth
When the inside of your mouth experiences an irritation or injury, bacteria can get inside and cause an infection.
Left untreated, an abscess can form on your gums and around your teeth.
Periodontal Abscess
A periodontal abscess involves the ligament that holds the bone and the tooth together.
It is associated with teeth that already have a periodontal pocket and bone loss.
How Can you get an Abscess in the Jaw?
Your jaw bone is responsible for holding your teeth in place.
So when bacteria collects in an infected tooth, it can spread into the jaw and even into the facial bones.
You can probably see why a good dental hygiene routine is so important.
Keeping on top of brushing your teeth and flossing regularly will reduce your chances of having a tooth abscess, greatly.
What Can You Do to Ease the Pain?
The best way to provide immediate relief is to drain the abscess.
For most tooth abscesses, your dentist will make an incision in the gum area or drill a hole in the tooth to allow pus to drain.
To heal your abscess and to take away that pain permanently, root canal therapy is the recommended treatment unless the tooth is severely damaged.
In which case, removal or extraction (as it is known in the dental world) is the best way to treat the discomfort.
Until you can see your dentist, some types of pain relief can help you, these include:
Anti-inflammatory toothache medications.
Antibiotics.
Ice packs.
Warm salt water rinse.
How Long Does an Abscessed Tooth Take to Heal?
This really depends on how long the infection has been in place as well as the extent of the damage to the tooth.
Once treated, the infection typically calms down within 12 to 24 hours and starts healing.
If the abscess is a chronic one that has been in place for awhile, the healing process can take months.
Can an Abscessed Tooth Cause a Fever?
Yes. If a person with an abscessed tooth is experiencing fever symptoms, it means that the infection has gone systemic, or affected their entire system.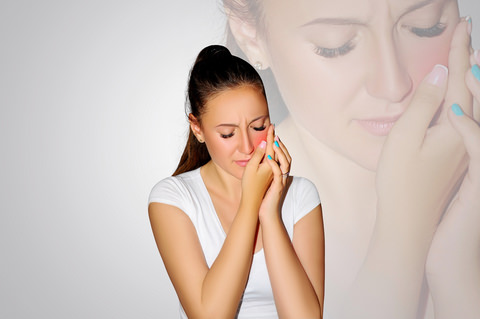 Your dentist can give you systemic antibiotics if it happens to you, but if the infection is especially extensive, a visit to your doctor or your closest emergency department is in required.
Can a Tooth Abscess be Treated with Antibiotics?
Yes, partially.
Antibiotics kill both infections and the bacteria that cause them. But some abscesses need more advanced treatment such as root canal therapy.
Antibiotics cannot reseal teeth to prevent further infection or regrow damaged enamel.
Visiting your trusted dentist is the only way to treat a tooth abscess.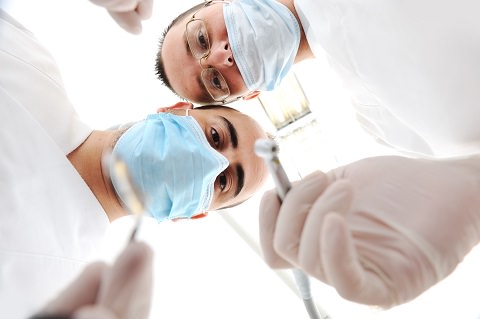 Conclusion
The problem you'll face with a tooth abscess is that the pain won't go away by itself.
You will need to visit your trusted dentist so that they can check, advise and find a solution to the pain you are experiencing.
You're more likely to have a tooth abscess when your teeth and mouth haven't been looked after.
A dental hygiene routine is a must and will help reduce your chances of a tooth abscess forming.
What you eat and how you eat is another recurring theme amongst most dental problems we face on a daily basis.
A healthy diet and proper dental hygiene will give you the tools you need to prevent many dental issues including an abscessed tooth.
Have you had a tooth abscess recently? What was your experience like?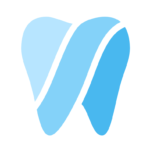 By Dr Veronica Roller
Created at March 19, 2018, Updated at December 13, 2020