Tooth Extraction Cost – How Much Should You Pay?
Tooth Extraction Cost – How Much Should You Pay?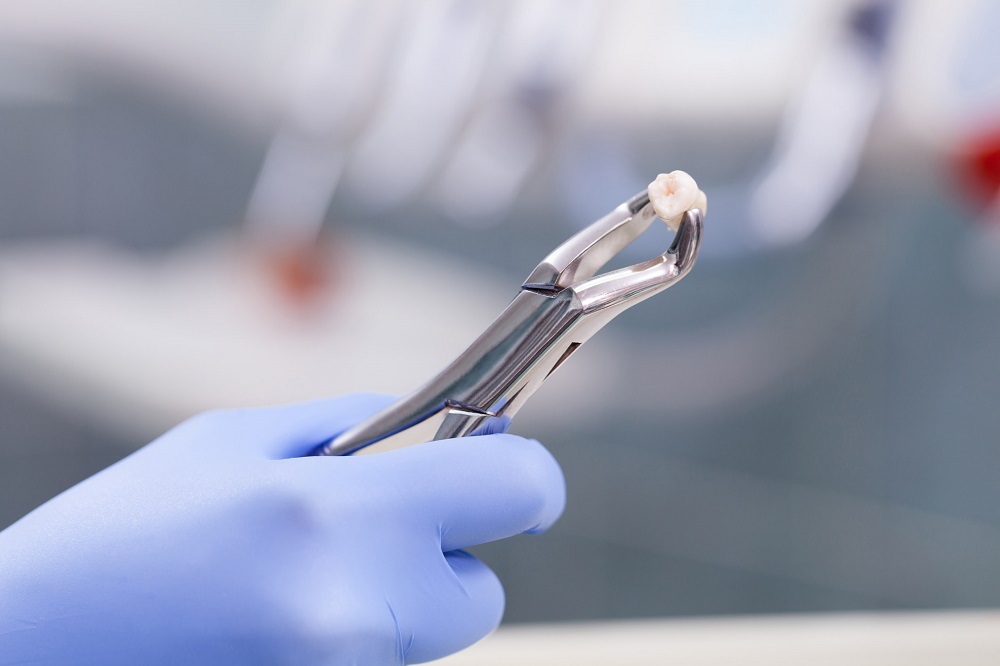 If your tooth has been deemed incapable of being repaired, and you require an extraction, one thing on your mind may be – what is the average cost for a tooth extraction?
The cost of a tooth extraction can range, depending on both your location and the severity of the procedure.
A simple extraction will start from $270.
If the procedure starts to become quite difficult (meaning, there is a lot more work involved), then you could pay up to $400.
Today I will provide you with the average dental extraction costs across Australia using our Dental Cost Calculator.
I will discuss all your alternative options to tooth extraction and will talk about whether it is possible to visit the dental hospital for free work.
I will also talk about what insurance will cover extractions and whether you can use Medicare or bulk billing for a tooth extraction.
Note: All general dental information in his post has been referenced and confirmed by our resident Dentist, Dr Veronica Roller. As we don't know your personal situation, it is advisable and recommended to seek direct advice and consultation with your dentist before deciding on a course of action.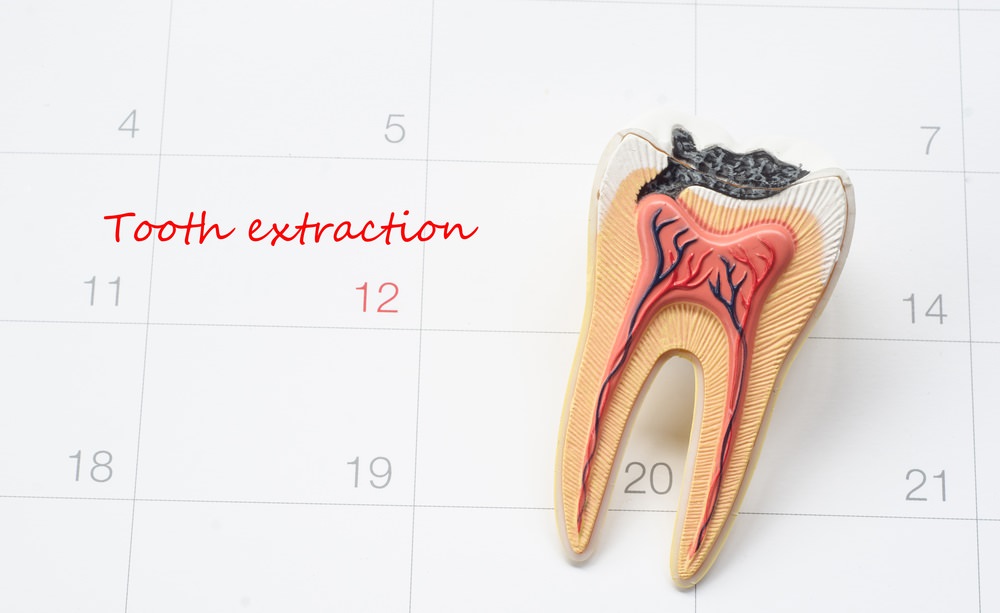 Dental Extraction Cost for Each State
As mentioned, the average price for a dental extraction changes throughout each state in Australia.
There are also different Item Codes for a tooth extraction, depending upon the severity of the work that needs to be done.
Basically, you can have a tooth that a Dentist can take out within minutes or even seconds.
Then, you have other teeth that will sometimes crack, meaning the Dentist will have to section them, pulling them out piece by piece.
Other teeth may crumble, so the Dentist will have to spend even more time extracting them in pieces.
I will provide a list of these different Item Codes and their average costs below.
ACT Extraction Costs

NSW Extraction Costs

VIC Extraction Costs

QLD Extraction Costs

WA Extraction Costs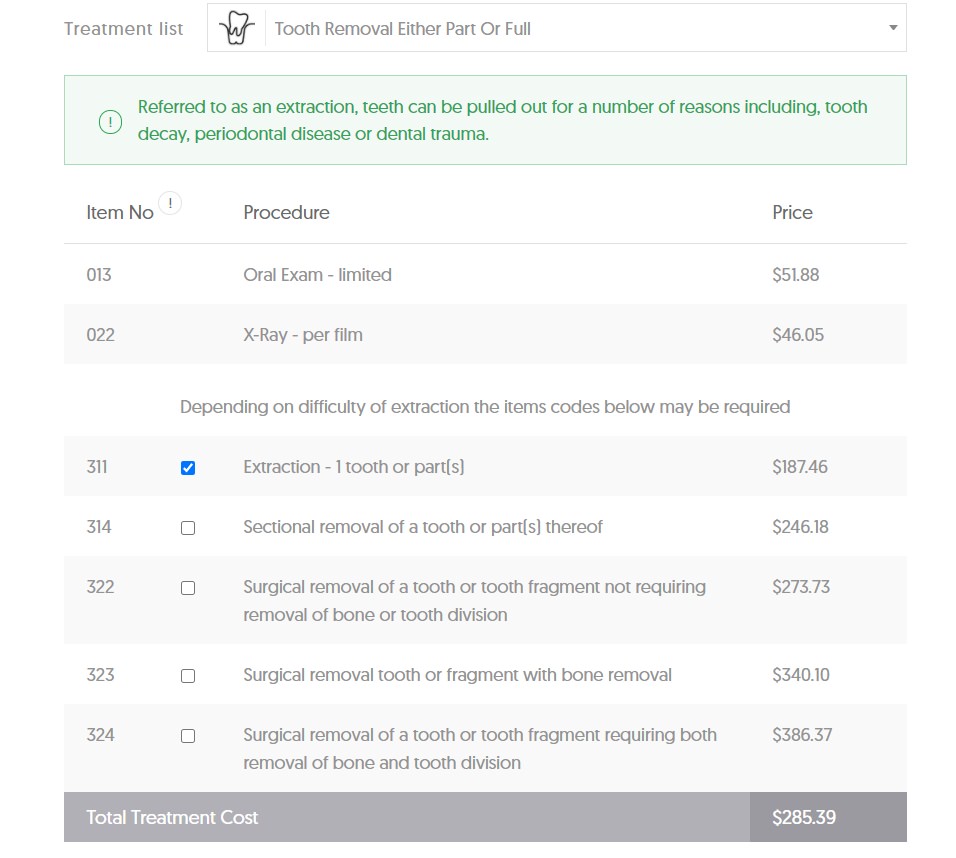 SA Extraction Costs

TAS Extraction Costs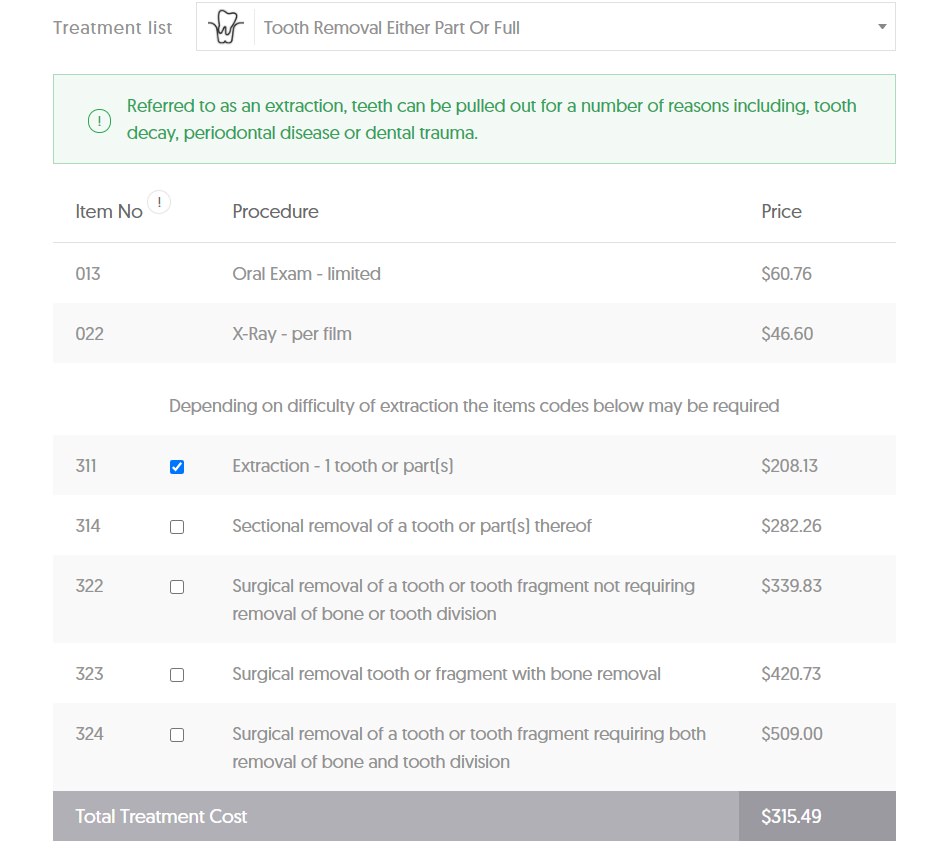 NT Extraction Costs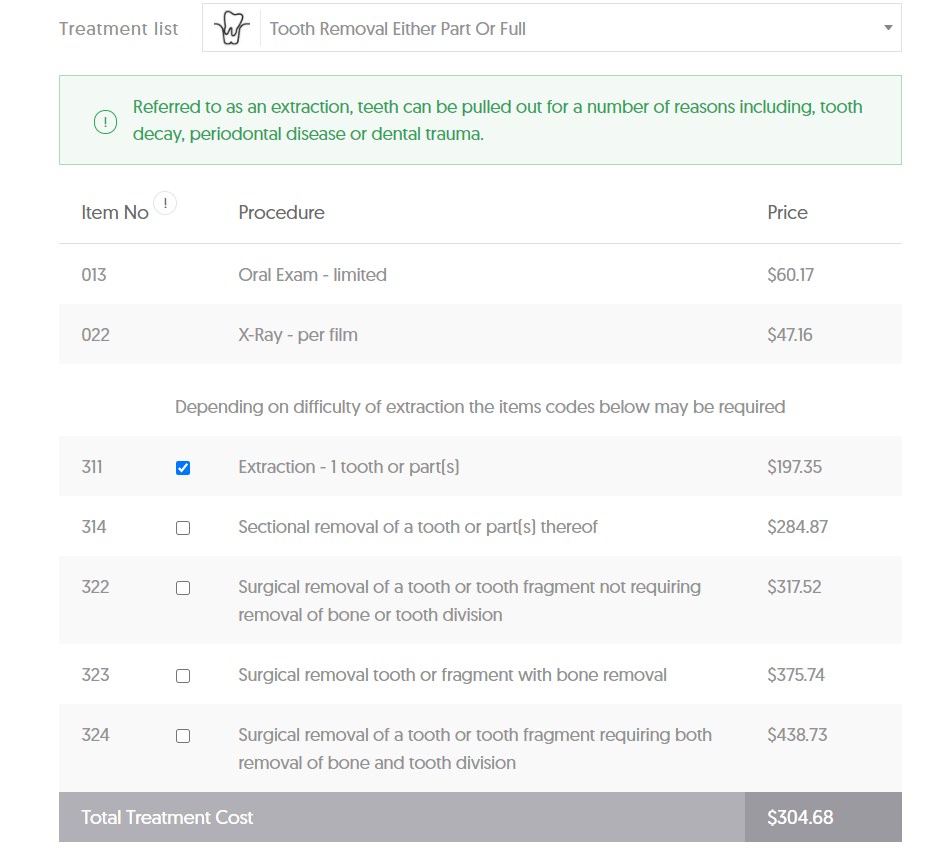 What Are Your Alternatives to a Tooth Extraction?
A tooth extraction, or simply removing a tooth, is considered the 'last resort'.
Extraction is used if your tooth is in a lot of trouble and there is no way it can be salvaged, you are then left with no other options.
Should your tooth already be seriously infected, there is no point in trying to save it because it can destroy your other surrounding teeth.
However, at other times, your Dentist still may be able to keep you out of pain momentarily, which is like the start of a root canal procedure.
This is all so you can keep your tooth for as long as possible, until it becomes worse, such as;
Too painful
Infected
Having the potential to become infected
However, the end result is still going to be an extraction.
This is typically due to the fact that;
Periodontitis (gum disease) is involved – meaning you will be in pain, and the tooth must be removed, as it can be toxic.
Periodontitis also means that there is not much holding the tooth in place.
The tooth is mobile and shaking all over the place, flying in the breeze if you will.
However, it is up to the Dentist to decide whether the tooth is too far gone, and extraction is considered necessary.
A Dentist will do anything they possibly can to save a tooth, but sometimes it is just not an option.
Though, examples of when they will save the tooth (meaning, they will not resort to an extraction), include;
If the tooth is pain-free, they can use a splint to hold it in place, or
They can try to restore the tooth with an inlay, onlay, crown or a root canal treatment.
Yet, if just one of those things still does not bring the tooth back from the brink, it is going to need to be pulled out.
Meaning, you cannot try another one of these treatments again on the same tooth.
There is no point, for example, trying to put an onlay on top of an inlay. You are just wasting a lot of money on a tooth that has no chance of surviving.
Can You Visit the Dental Hospital for Free?
Not just anybody can visit the Dental Hospital, expecting to get their dental work done for free.
To be able to receive treatments at the Dental Hospital, you must have a concession card or a pension card.
So, the work at the Dental Hospital is typically available for people who are eligible for Centrelink, or pensioners.
If this is you, our blog on Cheap Dentistry has information on how you can access your Dental Hospital and the pros and cons of using their services.
There's also information on Dental Care for Pensioners, and the discounts you can receive.
What Will Insurance Cover?
A tooth extraction, by most health insurance companies, is considered a "Routine Dental" service.
So, if you have health insurance, it should cover at least some, if not all of, the cost of your extraction.
Be sure to check your waiting periods – most companies have NO waiting period for Routine Dental Services but be sure that this applies to you.
If you want to know exactly how much of the cost of the extraction your insurance company will cover, you can;
Visit your Dentist, and get your Item Codes, with the prices for your treatment.
Compare this against the Benefit you will receive for the extraction from your insurance company, or
Ask at the Dental Clinic, when getting your Item Codes, if they can check your health insurance card, to see how much your "gap fee" will be.
Can You Use Medicare or Bulk Billing for a Tooth Extraction
Medicare does not cover much dental work.
The only people who are eligible are those under the Teen Dental Plan.
This program was created to provide financial aid to families, by;
Helping to check the health of their teen's teeth, and
Establishing preventative measures, encouraging a lifetime of good dental habits.
Conclusion
There are many different Item Codes for tooth extraction, depending on how severe your circumstances are.
As such, the cost of a tooth extraction can range, depending on these Item Codes.
A simple extraction can start from $270 (depending upon the state/territory in which you live)
With more complex extraction, which will take more time and work, can cost up to $400 (also dependent upon your location).
It is important to remember that these prices are only averages, your dentist may charge more or less.
Tooth extraction is generally the last step a Dentist will take, but sometimes it is their only option.
In regards to getting tooth extractions for cheap, you may be eligible if you;
Hold a pension or concession card –  you can have your Dental work performed for free at a Dental Hospital.
Have health insurance – Most private health insurance companies should cover a portion of the cost of your extraction, as this is considered a "routine dental service".
You can read the full guide to Australian dental insurance policies here.
The benefits that you receive for dental work in your health insurance policy are actually very important, as Medicare does not cover these much at all.
Your child may be eligible for the Teen Dental Plan, other than that Medicare really only covers your Doctor.
If you would like more information on tooth extraction, we have a full blog post on "When Do You Have to Extract a Tooth?".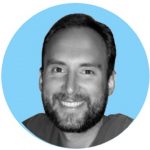 By Andrew Adams
Created at October 13, 2020, Updated at October 12, 2021