TePe Good™ Regular Toothbrush Review
TePe Good™ Regular Toothbrush Review
TePe has created a sustainable toothbrush range called Good™ made from mostly sugar cane.  The brand TePe is very well known around the world, especially in Europe and Scandinavia. This toothbrush aims to be 'good for you and good for the environment'. Let's see if it is!
Pros
Sustainably made
Created using 100% green, clean energy
A low carbon foot print
Cons
Bristles are a little flimsy
Reminds me of a hotel toothbrush
More bristles needed for a thorough clean
Technical Details
Dimensions

18cm long, 2cm wide at furthest point

Notable Materials

96% Bio-Based Plastic - Sugar cane

Manufacturing Country

Sweden

Warranty Information

Australian consumer warranty
Full Review
Looking for a sustainable and environmentally friendly toothbrush? TePe's range of Good toothbrushes is definitely something to consider. They are made purely and completely through 100% green energy in Sweden. Yeah, I know, WOW!
This toothbrush is simple in design and doesn't try to be anything it's not. The biggest feature of this toothbrush is that it's hugely sustainable, clearly environmentally friendly and aims to be good in every aspect, including when brushing.
I look at this toothbrush in detail and test it out thoroughly.
Packaging Details
The toothbrush is very well secured inside the package, it's a little bit of a mission to get the toothbrush out but that's a positive thing as it means there's no chance of contamination and anything getting inside once you get the toothbrush from the shop.
There's quite a lot of information on the package itself. It shows clearly that it is made in Sweden which is typically a good thing as a lot of quality products come from Sweden.
This toothbrush is made from sugar cane, hence the toothbrush being a bio-based plastic product. This is a really important point as you can identify quickly in the shop or online if you're looking for an environmentally friendly toothbrush.
TePe states their Good toothbrush is 95% recycled CO2 within its lifetime.
On the back of the pack, it looks at all the good side of what they're trying to do as a company and breaking it down into clear points for consumers to read.
The bristles or bio-based filament as they refer to is 100% bio-based. The handle is made of 96% sugar cane which is a rich renewable raw material. You'll find that the TePe's GOOD Tongue Cleaner is made from the same material.
TePe proudly mentions that the toothbrush range is produced by in their solar panel facility in Sweden, 100% green energy. Looking at these figures one can't help but be impressed!
Design and features
It looks like it's fairly well designed. Holding it feels a little bit awkward because of the width at the top of the handle. It tapers in as you go down to the bottom of the brush. It's not a big deal but worth a mention.
The brush has nice clean lines and yeah and it's reasonably light making it user friendly.
There's only slight flexibility on the neck to the brush head. It's reasonably firm in this area but one may say it's supportive when brushing.
It comes in 4 colours, yellow, blue, pink and green. The colours are vibrant which I really like and the brushes bristles are always green which jumps out at you. Cool design feature for aesthetics.
The brush head is reasonable in size but isn't overly large. If you are looking for a smaller head toothbrush, TePe also sells a Compact version of this toothbrush. It's not a kids brush but just smaller in design. I really like that they called it 'compact' and not just 'kids'.
First Look at the Brush
So it's probably a little smaller length-wise than your typical toothbrush. It does remind me of a brush you'd get in a hotel room bathroom.
Simple in design but just holding the brush, you can tell it's not your average toothbrush. It has a smooth textured feel as your fingers find their comfortable position on the handle.
The sustainable material can be felt straight away, compared to other toothbrushes I've tested. I rate this.
The way the bristles stand up in unison, a very clean and cutting edge. Looking closer, the bristles are rounded off ever so finely, surely making it a nice and soft on your teeth.
Testing the Good™ Toothbrush
Brushing my teeth with TePe's Good Toothbrush was initially a pleasant experience. It felt like the right size toothbrush for when holding it.
As I was brushing, the handle has a subtle groove that runs in the middle of the toothbrush that acts as really good support for your thumb as you're brushing, and it keeps it in place.
I was very impressed with this little design feature. The neck, it's not very flexible but it doesn't appear to need to be firm because the way the brush is designed.
The smaller neck offers more access to those hard to reach areas of your teeth, and the nice arrowhead design of the bristles and brush head seems to work really nicely as it's brushing inside your teeth, around your teeth and your gums.
One Consideration
There's only one thing, one consideration that I realised while I was brushing, it's the bristles.  Even though they are nice, soft and have rounded tips, they seem to lose their structure or form quite easily around my teeth and gums.
Now, this doesn't cheapen the experience, but it does feel like it could be a little bit more secure and sturdy, maybe around the base of the bristles, which could be a good idea.
A Second Consideration – Update
Just over 2 weeks of testing this brush and the bristles are starting to flare out on one side. I don't brush hard and I have always tried to use a soft toothbrush so I was quite surprised when this started happening.
My Partner Loretta's Review
So what do I think of the product? Yeah, it's pretty good. I like the design. I like the colour.
When I first looked at the brush I thought, oh okay, kind of just looks basic.
When I was using it, I like the feature that it's a bit wider at the top of the handle, this reminds me of a toothbrush that I've grown up with.
Not putting it down but the brush reminds me of an '80s toothbrush. You know, something that we used when we were kids or something that you might find in a hotel.
There's a bit of a groove on the handle that I can hold the toothbrush quite well. The bristles I would describe as soft, soft to medium. And I feel like it is quite well-made. It feels lightweight, and it definitely does the job that it's intended for.
For me, it ticks the boxes. I quite like the product. It's got no-frills, basic, but it does the job.
Price and Value
This brush is currently priced at just over $3.60 at Smile Boosters. The only online retailer that is selling the Good Toothbrush by TePe, Smile Boosters does offer free shipping but you must spend $50 per order.
Reasonable value at this price but shipping costs can make this toothbrush very expensive.  Just take a look at another online retailer, fishpond. They have stock in the UK that is ready to ship for a total cost of $19.97 shipped! You can see what I mean about shipping.
Usage Timeline
Initial Usage

Condition: Excellent

Cleans reasonably well and is soft on my teeth and gums
Feels good holding it when I brush
I particularly like the subtle indentation in the middle of the brush

2 Weeks of Use

Condition: Fairly Good

The brush is providing a fairly good clean
The bristles are starting to lose their structure and are flaring out on one side of the brush
I do like the design and how it looks though
Overall
TePe's Good™ regular Toothbrush has many important sustainable features. I absolutely love the fact it's been created and designed with the environment in mind.
Made with 100% clean, green energy, this is a big deal and TePe should be proud of this.
The cleaning experience was 'Good' in the first week and I was happy with how it felt as I brush my teeth. The second week proved to be concerning as the bristles on one side of the brush started to flare out and bend a little.
When I first started brushing, I do believe the bristles were a little flimsy when applying some slight pressure. This moves the cleaning experience to just okay. If you are looking for a firm brushing experience this might not be the brush for you.
That aside, it has wonderful sustainable features and if this is more important to you then I'd definitely check out the Good ™ range of toothbrushes by Tepe.
Do you have any questions relating to this Bio-Based plastic toothbrush by TePe?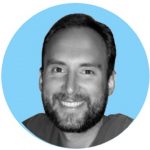 By Andrew Adams
Created at April 25, 2020, Updated at September 16, 2021