SmilePro Worldwide Whitening Kit Review
SmilePro Worldwide Whitening Kit Review
Smile Pro Worldwide Whitening Kit is stylish and has that dental allure about it.
Their Teeth Whitening kit has you covered and provides all you need to get you started with whitening your teeth!
Let's see how this kit performed and what we thought of it.
A quick note: This isn't a paid sponsorship. We bought this kit ourselves for the purpose of this review. However, if you do purchase a product using a link in this post, we may receive a small commission at no additional cost to you.
Pros
The kit is very compact and has everything you need to whiten your teeth.
6% hydrogen Peroxide used as the whitening agent - Strongest for retail use.
Easy to use and the whitening formula does work with around 2 shades whiter recorded during the review period.
Cons
Only 9 treatments of gel inside the kit, a bit light on compared to some others on the market.
Using the gel syringes can be a little messy. Applying the 0.5mls isn't always that easy.
Technical Details
Dimensions

The Kit- 18.5cm x 9cm x 6.5cm

Notable Materials

6% Hydogren Peroxide at the whitening agent of choice

Manufacturing Country

China

Warranty Information
Full Review
SmilePro Worldwide is one of the top brands in the at-home, whitening kit market.
They offer a range of kits and whitening products to suit most needs.
Our reviewer Loretta, tested out their Teeth Whitening Kit over 7 days and below are her first impressions and thoughts on this whitening product by SmilePro Worldwide.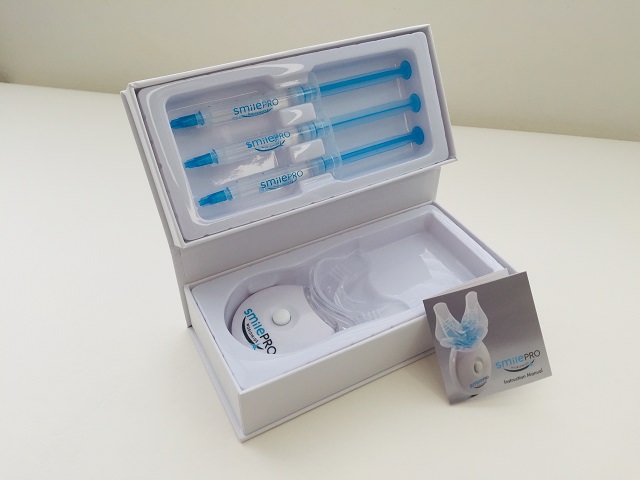 Our Reviewer – Loretta
Loretta is a 37-year-old woman who is the mum of a 2-year-old and works part-time as a primary school teacher.
Her likes include spending time with family and friends, relaxing at home (when possible) and occasionally shopping online or at the local mall for good value deals.
Loretta was asked to review the SmilePro Teeth Whitening Kit and provide any insights on the product.
This is what she thought.
Loretta's First Impressions
I really liked the packaging of the kit. To me, it looked very stylish and fancy.
The contents of the kit were great and I could tell I had everything I needed.
Fitting the moulded mouth tray to the LED Lights wasn't too hard, just a little fiddling around at the beginning.
The mouth tray fit my mouth well and I didn't feel like it was either too big or small.
I loved that the LED light had a timer and having 10-minute intervals made using this kit easy.
Instructions were pretty straightforward. I've tried teeth whitening kits in the past and I felt the SmilePro Kit was similar to others.
Overall the kit worked very well and my teeth are whiter which is great!
Packaging and Design
The colours used in the SmilePro packaging are very eye-catching, stylish and appealing.
When it arrived the kit was wrapped in a thin layer of plastic, which helped protect it during transit.
When I first unwrapped it I noticed there was a little bit of damage on the right-hand side of the top of the box, but that's probably come from the shipping side of things.
Overall the packaging of the kit is very smart and trendy and is simple in design.
The cardboard box has a beautiful matte finish which I really like and it provided a more luxurious feel to it.
Information on instructions, ingredients, cautions and inclusions can be found printed on the back of the box.
I found the kit similar to HiSmile or the Bondi Smile teeth whitening kit I've reviewed in the past. You can tell it's very similar.
What's Inside the Smile Pro Worldwide Kit
Inside you will find the following items in their teeth whitening kit:
3x 3ml SmilePro Teeth Whitening Gel (9 treatments in total)
Accelerator SmilePro Teeth Whitening Light (including batteries)
Universal Moulded Mouth Tray
Shade Guide
Simple 10 Step Instruction Manual
Compact Travel Box
LED Light
SmilePro LED light is well-made and comes in a handy size which feels just right in the palm of your hand.
The timer function on LED is helpful and useful, beats using your phone as a timer.
It comes with 2 small lithium batteries that are easily accessible via the back of the LED light.
Before using the LED light, you will need to remove a small plastic tab in the battery compartment and place the batteries back. This just stops the batteries going flat before you get the kit.
Whitening Gel Syringes
There are 3 syringes with 3 mls of whitening gel formula in each syringe.
They have very clear blue writing on the sides of the syringes, making it easy to understand how much whitening gel to use or how much you have left.
The 3 syringes are housed in a plastic cutout on the top section of the box.
I found the cutout a little less secure than some others on the market. The syringes kept popping off inside the kit.
The syringes provided give users 9 treatments in total.
Whitening Gel Ingredients
Depending on where you live around the world, there are slightly different ingredients used.
For those of us that live outside Europe and the UK (like beautiful Australia), SmilePro Worldwide Teeth Whitening has the following ingredients:
Aqua
Propylene glycol
Glycerol
Hydrogen Peroxide (6%)
Carbomer
Carboxymethyl
EDTA
Polyvinylpyrrolidone
Menthol
However, if you do reside in Europe or the UK you will get somewhat different ingredients.
Unfortunately, Europeans and the Brits missed out on the 6% hydrogen peroxide.
Below is a list of those ingredients:
Glycerol
Propylene Glycol
Deionized Water
Sodium Bicarbonate (4%)
Sodium Chlorite (2%)
Xanthan Gum
Menthol
Cocos Nucifera Fruit Extract
Aloe Leaf Juice
Bromelain (Pineapple)
Citrus Grandis(Grapefruit) Seed Extract
How to Use – 10 Simple Steps
Let's run through the 10 steps that they provide us on the kit.
1# Remove the clear plastic piece from under the batteries and then reinsert the batteries.
So this is a very standard process with a lot of the whitening kits.
It just keeps the batteries nice and fresh in case they get bumped in transit or when it's being stored.
2# Attach the mouth tray to the whitening light.
The tray was already attached when it was delivered.
Before using the mouthpiece, I'd probably give it a wash and rinse before using it.
Putting the mouth tray back onto the LED light can be a little bit tricky. You might just have to fiddle with it a little.
The grooves, even though they are very well made, can take a little time to fit it back on properly.
3# Gently brush your teeth without toothpaste and rinse with water.
That's interesting, without toothpaste. It's always good to give your teeth a bit of a clean.
I'd probably also recommend flossing or using an interdental brush to make sure your mouth is completely clean.
4# Remove the blue lid from the tube and apply 0.5 of mls of whitening gel into each side of the mouth tray. Apply just enough to coat the front surface of your teeth to be whitened, but not make contact with your gums.
This is a bit of a trial and error process. Sometimes it is hard to get that 0.5 mls of whitening gel into each side and you might get a little bit over the sides.
I've found in the past that if it does go over that amount, you can just use the syringe as a scoop and then allocate enough on the bottom and the top just to even it out.
5# Place the tray in your mouth and push firmly against the front of your teeth.
This is pretty standard. Just make sure that there's good contact between the mouth tray and your teeth so it optimises the whitening gel effectiveness.
6# Press the power light to start the 10-minute countdown.
It's great that this has got a 10-minute countdown feature, just like the Bondi Smile Kit.  It's definitely an advantage with a kit that has this part of the LED light.
7# The light will turn off after 10 minutes. Press the power button again, to continue for 10 to 30 minutes using the 10-minute timer to track time. The longer the treatment, the better the whitening results.
10 to 30 minutes is a good amount of time. You just have to use your common sense here. If there's any sensitivity or great sensitivity stop with the treatment.
And it is advisable to just start off with 10 minutes and then progress from there. A 30-minute treatment should deliver better results, so just to keep that in mind.
8# Rinse your teeth with water, then take off your mouth tray from the whitening light and clean it.
Regularly cleaning your tray will also improve that whitening process for future treatments.
Oh, and just to make sure you rinse your teeth out, which is good.
#9 For best results, repeat the procedure once every day for a minimum of seven days.
I think it's a good amount of time to really test out this whitening kit.
#10 Use once every two weeks to stop stains from building up again and to maintain a level of results.
SmilePro Worldwide, like other kits and brands on the market, have refill gel syringes that you can buy. It is an advantage to buying a product like this.
Testing the Smile Pro Kit
Loretta tested this whitening kit for 7 days.
We asked her to make notes while she reviewed the product and let us know what she thought overall.
Below is her usage timeline over the 7 day period.
Usage Timeline
Initial Usage

Condition: Great

The packaging was really nice.

I did notice a little damage to the kit box when I first received but nothing inside was damaged.

The kit was very easy to use for the first time. Instructions were simple and straightforward.

No sensitivity was experienced on my first try.

Days 2-4

Condition: Great

The kit was compact enough so I could store it in my bathroom cabinet.

I did find trying to get the exact amount of whitening gel on the mouth tray a little hard. Sometimes too much gel came out.

The timer on the LED was brilliant, I didn't need to use my phone or another device to time my treatments

No sensitivity on days 2 to 4 either.

Days 5 - 7

Condition: Great

I found doing my treatments at night was the best time for me.

Also, lying down, either on a bed or lounge helps keep the salvia build-up down.

I watched some Netflix when using the LED light.

Overall no sensitivity issues were experienced during testing this kit.

I used it on average for roughly 20 - 30 mins a night.

I would say my teeth are 2 shades whiter.
Price and Value
SmilePro Worldwide has a standard Teeth Whitening Kit on offer for $79.95.
This price seems to be the rough average when looking at purchasing at-home teeth whitening kits in Australia.
Their Advance Whitening Kit offers better value for money which also includes a whitening pen for $89.95.
If you are a couple or have a friend that would like to whiten their teeth as well, you can opt for a twin Advanced Teeth Whitening Pack on sale at the moment for $149.50 (a saving of $149.50).
The SmilePro Worldwide kits offer reasonable value for money for the price they cost.
Overall
When searching online for a whitening kit to use at home, you'd probably have seen the SmilePro Worldwide Teeth Whitening Kit come up.
We found it a well made and eye-catching kit for the money, and that it showed results after Loretta's 7-day test.
An Australian company, SmilePro Pty Ltd have created a good whitening product for Australians.
Their kit has all the necessary components that you would need and expect to whiten your teeth.
What did you think of the SmilePro Worldwide Teeth Whitening Kit?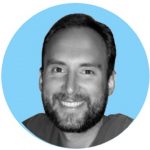 By Andrew Adams
Created at September 02, 2020, Updated at September 16, 2021