Dentists in Port Macquarie – Top 5 Listed and Prices Checked!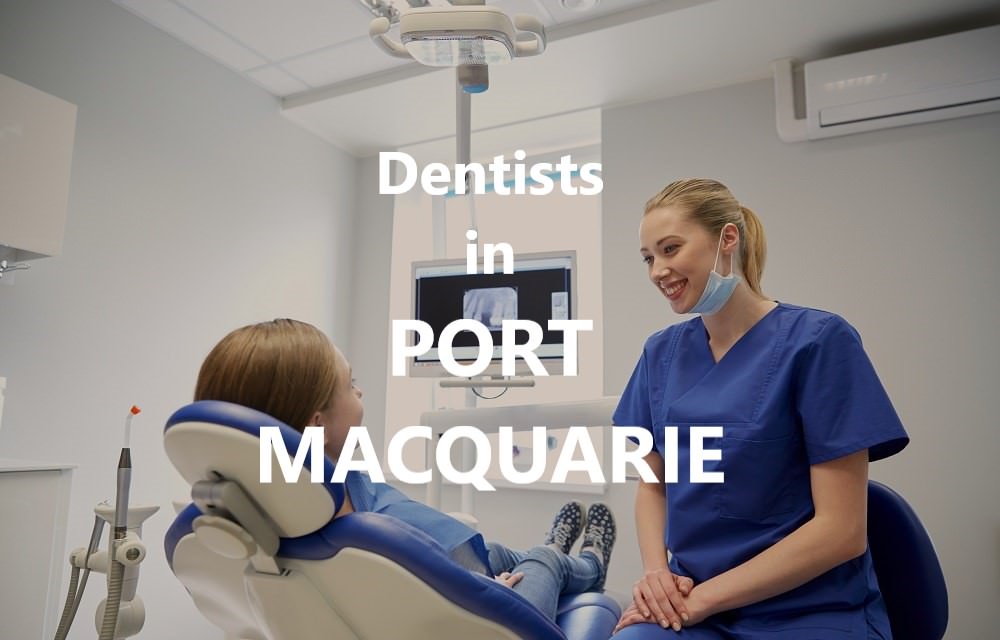 You've arrived at a great place if you live in Port Macquarie and need a new Dentist.
With over 40 Dentists in the region, it may not be easy to find the one you feel suits you.
But my job is to make it easier for you!
In this post, I hope to provide you with some general but vital information, allowing you to make an informed choice.
Note: We're not associated with any of the Dentists mentioned. All prices were gathered by our secret shopper. To the best of our knowledge, all data gained was accurate when writing this post.
OVERVIEW: Dentists in Port Macquarie
Number of Dentists in Port Macquarie:
40+
Dentist over 4 Google Stars:
26+
Total Google Reviews Combined:
730+
TOP 5 Google Rated Dentists in Port Macquarie
Below are the TOP 5 Google rated Dentists in Port Macquarie.
These were based on their ratings and how many people reviewed every dental clinic they visited.
Please use this post as a guide only.
Ratings are a good tool for assessing, but a persons' individual opinion is unique, so you may find it differs from yours.
But this post can lessen the pool of dentists' you're searching through, making it easier for you to find the one that suits your future requirements.
1. Star Dental Centre
Star Dental Centre has 4.7 stars and 203 Google reviews.
Many people state that they're great at talking you through your procedure.
Their website suggests they work in a similar fashion – focusing on your concerns, your budget, and your personal circumstances.
They are also the first dental clinic in Port Macquire to have been triple-accredited with QIP (Quality in Practice).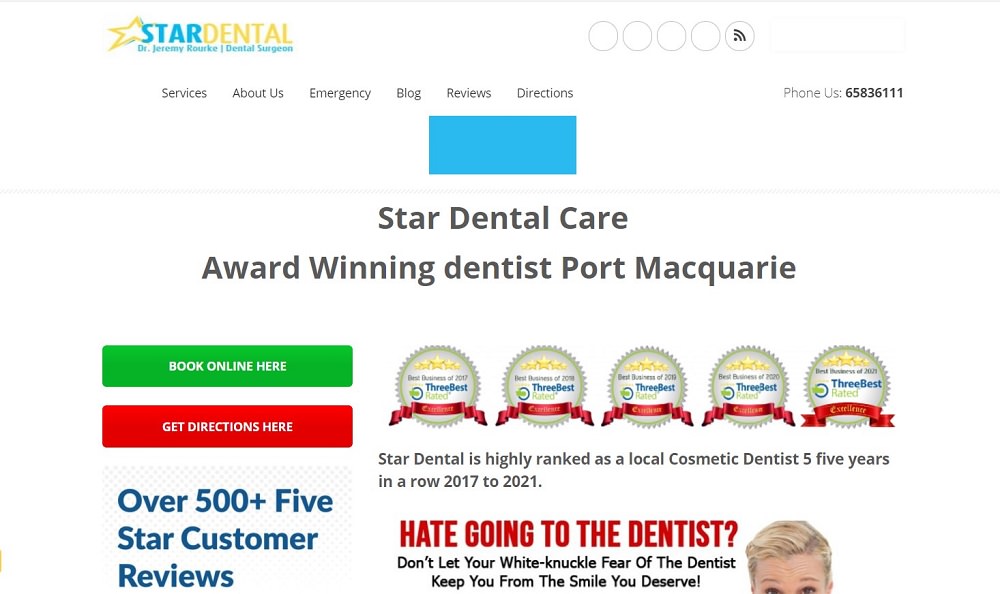 I gave them a call to get their prices on a few common dental treatments you might need to consider.
They weren't overly forthcoming with costs.
I was put on hold while they worked out average prices, as Item Codes are normally done by their Dentist.
But the average prices I was given are:
$145 for a professional clean (Codes 011, 114, 121, but exclusive of code 022 – an x-ray).
$145 – $185 for a dental filling (Codes 531 and 577).
If interested in teeth whitening, your dentist can perform this.
They offer:
One visit, where they make the mould, apply bleach and supply you with a take-home kit and whitener. This averages at $275 – a great price!
Overall, their average costs, in comparison to the ADA Survey, are quite inexpensive.
They were also the least costly of all Dentists in the TOP 5.
I believe you'll get a great experience here.
2. Sundial Dental
With 5 stars and 57 Google reviews, ranked second is Sundial Dental.
Reviews state that this clinic is patient, gentle, and relaxing.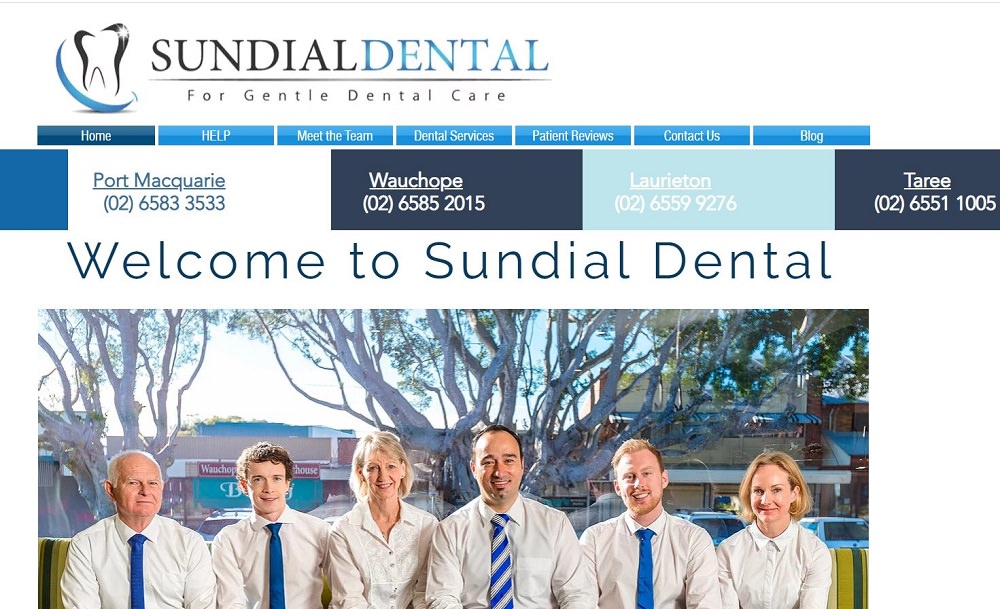 I questioned them about the same, everyday treatments.
Prices are listed below.
Professional clean Item Codes:
011 – $65.
114 – $119.
121 – $28.
022 – $42.
Dental filling Item Codes:
They also offer take-home teeth-whitening kits for $500.
Regarding prices, this clinic is the most expensive of all listed today.
Slightly higher than average prices across NSW, which you can see in our Dental cost calculator.
But, with over 50 years of experience providing family and cosmetic dentistry, they're still a great choice.
3. Port Smiles Dental
With 57 Google reviews and 4.9 stars, Port Smiles Dental is third.
Reviews lead you to envision their practice has a welcoming, caring attitude.
Their website suggests they have modern facilities, so all-around it seems they have a great clinic.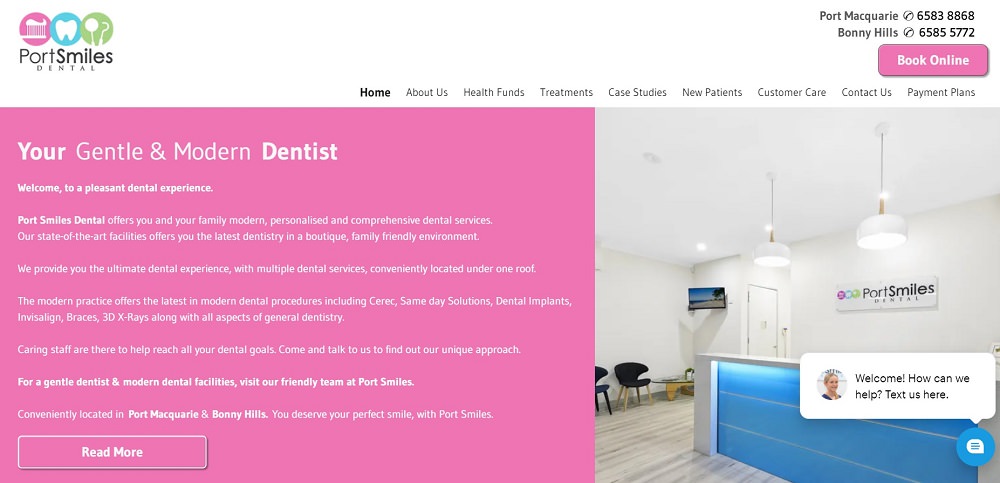 When calling, they were helpful, giving me much more information.
I was advised their Item Codes are always approximated, as it depends on the size and difficulty of the service.
Also, any health insurance I have can help with coverage.
The costs I was given are as follows.
Their professional clean (Codes 011, 114, 121 & 022) was capped at a maximum of $199.
If your health fund covers this, it essentially means you will have no out-of-pocket expenses.
Dental filling (Codes 531 & 577) depends on which tooth, but starts at $160, and reaches a maximum of $280.
Your health fund may cover some costs.
Regarding teeth whitening, they offered me two choices.
The first is a take-home kit.
Impressions of your teeth are taking and then you get a retainer plus the whitening gel, for $350 – $400.
The second option is Zoom in-chair.
A check-up prior is recommended to see if this is viable, then the treatment takes 1.5 hours.
You'll also get the above take-home kit to continue treatment and touch up.
The total cost for Zoom Whitening at Port Smiles is between $750 – $800.
These prices are very affordable – close to that of #1 in the group of dentist practices in Port.
With plenty of on-site parking as well, this #3 dentistry is a fantastic choice.
4. Mid North Coast Dental Centres
With 4.3 stars and 58 Google reviews, Mid North Coast Dental Centres comes in fourth.
Reviews suggest they are efficient, cost-effective, and of excellent value for money.
Their website tells this great story of a patient, once terrified of Dentists', who appreciated their service so much he returned with a present.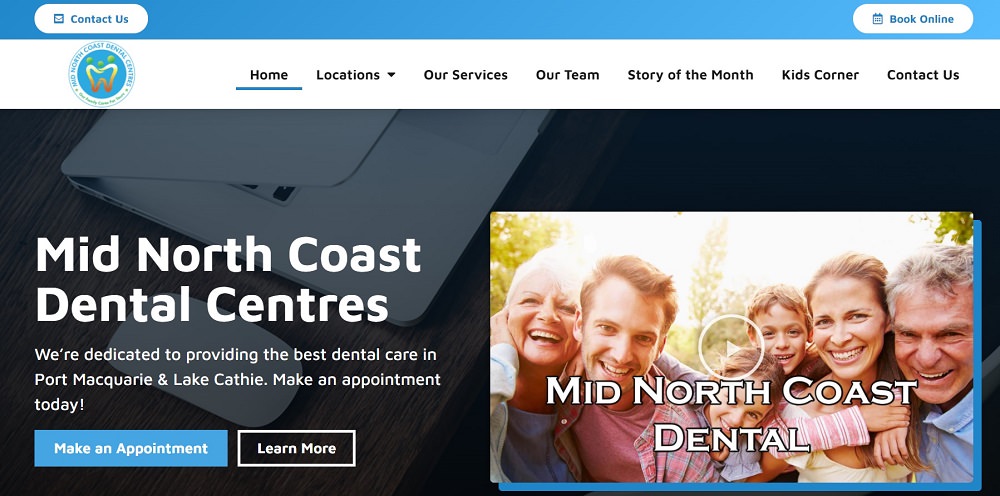 When I called, I was first asked if I run under smile.com.au, as they are one of their preferred providers.
Learn more about Smile and their discounts here.
They currently have a special for new customers for a professional clean (Codes 011, 114, 121 &112) for $150.
This includes 2 x-rays (Code 022).
If you don't need an x-ray – which you may not if you've recently had one taken – the price is only $99.
This is a great deal!
Moving onto fillings.
Prices are as follows:
Code 531 = $200.
Code 577 = $40.
For teeth whitening, I was given two choices.
A take-home kit was priced at $400, which included a mould and the whitening gel formula.
The In-chair Teeth Whitening Treatment came in at approximately $700.
These prices are similar to the above dentists, and with the discount of Smile, they'll be more affordable.
They also offer Zip Pay, Zip Money or Afterpay.
Though rated #4, they're a solid choice if you are after a new dentist in your local area of Port Macquarie.
5. TL Dental
Fifth is TL Dental, with 4.8 stars and 37 Google reviews.
Many refer to its modern design, children's playroom, and ceiling television, suggesting a wonderful, relaxed environment.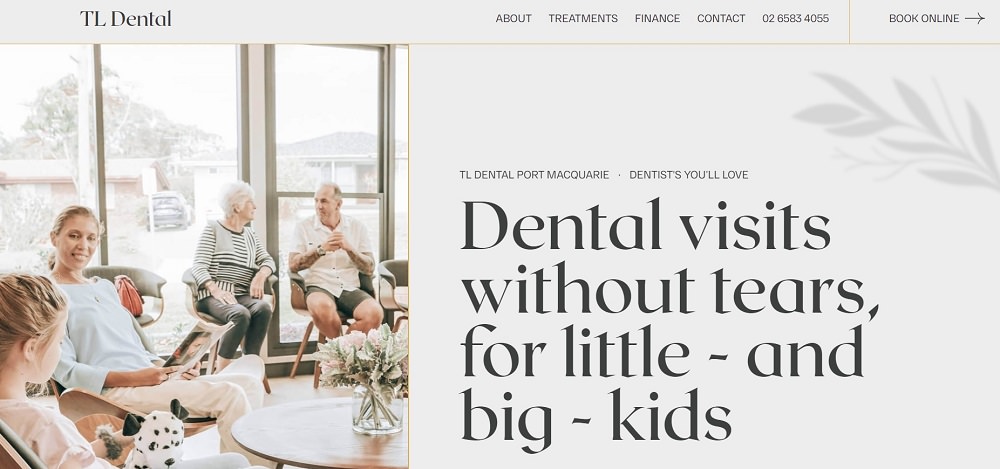 I spoke with them to get their prices on the same treatments, and they were very polite.
I was quoted $185 for a professional clean (Codes 011, 114, and 121), and an extra $45 for an x-ray (Code 022).
Fillings and code 531 comes in at around $180 and code 577 from an extra $45.
In-chair teeth whitening at TL Dental costs $750.
Easy to enter off Savoy Street, they have plenty of free on-site parking, including disabled spots.
All-round, I'd say though rated number 5, they're still a great choice.
Conclusion
I hope, by narrowing your search pool for Dentists in Port Macquarie, I've made the hunt easier.
These dentists have admirably earned their place listed in Googles TOP 5 Dentists.
I confirmed this by checking Google ratings and reviews, their websites, and calling, asking about common treatments.
Remember, however, there are still many other great dentists in your region.
I definitely suggest, if changing dentists, to ask your current dentist for your recommended treatment Item Codes.
Armed with this knowledge, you can make a more informed choice.
If you would like to know the average dental costs statewide, check out our dental cost calculator.
Search by either treatment, symptom or item code.
Have fun finding your dentist and I hope this post has helped with your local dentist search.
Is there a dentist that should be mentioned in this post? Let's know in the comments below!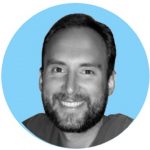 By Andrew Adams
Created at July 29, 2021, Updated at July 29, 2021