Oral-B Smart 5000 Electric Toothbrush – Reviewed and Tested!!
Oral-B Smart 5000 Electric Toothbrush – Reviewed and Tested!!
The Oral-B Smart 5000 Rechargeable Electric Toothbrush has 5 brushing modes and makes use of the Oral-B App to improve your brushing experience.
My folks tested the 2 handle pack option with multiple brush heads and a convenient charge base setup.
But is it a good option for your dental brushing needs?
Let's find out!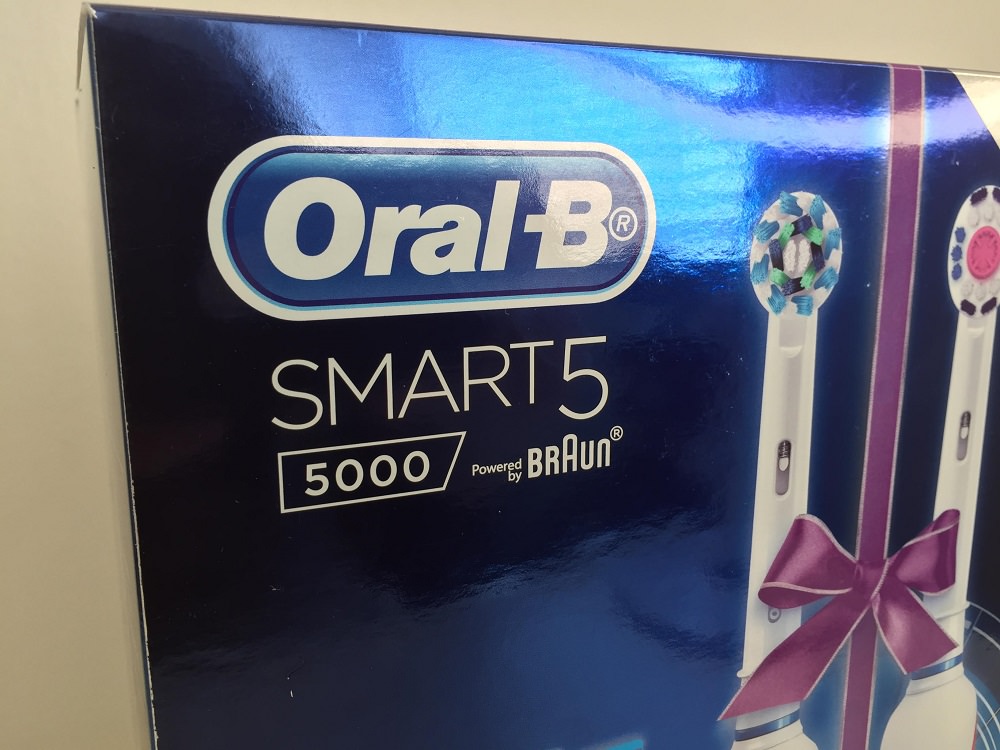 Disclaimer: Dental Aware is supported by its readers. If you click on one of the links below and buy something, Dental Aware may make a little bit of money at no additional cost to you. We only promote products that our team truly feels will be valuable to you in improving your oral health.
Pros
5 Brushing modes with pressure sensor
Bluetooth Connectivity with Oral-B App
Long lasting battery
Cons
If you have sensitive teeth the brushing modes might be too intense.
Charging base with brush head holder does take up a lot of room.
Technical Details
Dimensions

10 x 17.7 x 25.3 cm; 610 Grams

Notable Materials

1 Lithium ion battery

Manufacturing Country

China

Warranty Information

180 Day Money Back Guarantine / 2 year Limited Warranty
Full Review
The Oral-B Smart 5000 Electric Toothbrush has a lot going for it. Designed with quality components and a reasonable amount of features on offer, this electric toothbrush is a head-turner.
Available in either single or two handle product packs, the Smart 5000 electric toothbrush covers most requirements of would-be buyers.
As with the Smart 4000 Electric Toothbrush, its price well and is affordable, especially on sale.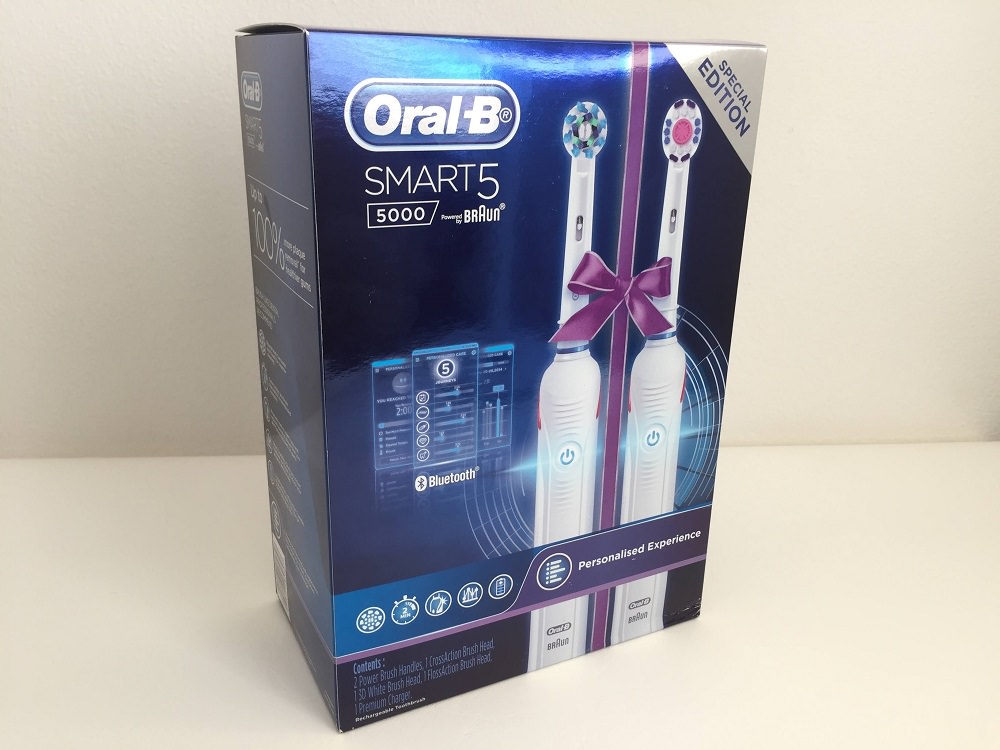 Our Reviewers
I entrusted this review to my parents, George and Suzie. Both are in their late 60s and have instilled good dental hygiene in me so who better to ask to review a product than mum and dad :).
The interesting thing about my folks is neither one of them have used an electric toothbrush before. Old school I know!
This actually represented a great opportunity to hear feedback from an original source, someone that hasn't had prior experience with these types of toothbrushes.
Let the great review and experiment begin!
First Impressions – Oral B Smart 5000 Electric Toothbrush
So straight off the mark both mum and dad thought the Smart 5000 Electric Toothbrush was very modern in design.
The word "Innovative" was used to describe this product.
However, there was a slight feeling of anxiousness with using this electric toothbrush. Dad felt like it was "somewhat foreign" to him.
I can't blame him, if I was trying something different for the first time after proximately 50 + years of brushing, I would be hesitant and a little anxious as well.
Regardless of this fact, dad was excited to give it a go.
Mum thought the packaging was pleasant and appealing. Thanks, mum.
Both my parents thought the handle was stylish and great to hold.
We'll dive a little deeper into the finer points shortly.
7 Features of the Oral-B Smart 5000 Electric Toothbrush
This Oral-B Electric Toothbrush comes with a good array of usable features.
We list each feature below:
A round head surrounds each tooth for superior cleaning (vs. a regular manual toothbrush).
Built-in timer helps you brush for the dentist-recommended 2 minutes.
Pressure control feature to help protect your teeth and gums.
Pressure sensor light
Oral B Smart Coaching gives you instant feedback and helps you track your progress with the Oral B App
State of the art Li-Ion battery providing more than 2 weeks of brushing at full charge. Faster charging time (vs. Oral-B basic charger)
5 Modes for different types of cleaning – Daily Clean, Pro Clean, Sensitive, Whitening, Gum Massage
The round brush head was easy to use but on occasion, even with the pressure control, irritated my mum's gums which are quite sensitive.
Granted, mum has gum disease, though this is a good point to note. Her dentist at the time actually recommended she brush with the Smart series of Oral-B. I wonder if this was a paid recommendation?
This is a good reminder to us all to take these recommendations on board but to do our own research to make an informed decision.
Moving on.
They didn't notice too much difference in the feeling of the 3 different types of brush heads that came with the toothbrush. Thought they did prefer the Floss Action overall.
Oral-B's pressure control and built-in timer are great functions to have and even though my parents didn't use the Oral B App to track their brushing, it is a wonderful feature at your fingertips.
The battery was long-lasting and the charging was extremely easy to set up and very functional.
The charging base with the brush head holder does take up quite a lot of room, so if you don't have much space in your bathroom, this could be an issue.
Having 5 modes of brushing is handy and gives you plenty of options overall. My folks preferred the sensitive mode when brushing their teeth.
Packaging and What's Inside
The Smart 5000 electric toothbrush has been packaged really well. Everything inside is protected and secure.
When you open it up you will find the following items inside:
A thorough instruction manual for both the toothbrush and Bluetooth connectivity.
2 x handles (depending on product pack, also comes in a 1 handle option).
1 x Charger and charging base with cover.
3 brush heads – Cross Action, 3D White, Floss Action.
Brush Heads with the Oral-B 5000 Toothbrush
The three brush heads that come with the Smart 5000 electric toothbrush offers a solid base to start you off, especially if you are new to the world of electric toothbrushes.
The pick of the bunch for mum and dad was the Floss Action brush head. This was because it was the most gentle on their teeth and gums.
Second place was Cross Action, followed by the 3D White toothbrush heads.
Brushing Modes with the 5000 Oral-B Toothbrush
Having 5 modes is a really wonderful feature and it provides you with flexibility and choice.
The 5 modes are:
Daily Clean
Pro Clean
Sensitive
Whitening
Gum Massage
The sensitive mode was a favourite with my parents. It just gave the right amount of brushing force without causing too much discomfort.
The Pro Clean was very full-on and almost unbearable.
A happy medium mode was daily clean as it was just a little more intense than sensitive mode.
Whether you brush soft or hard  (hope you always brush softly) there is a mode that surely will interest you.
Bluetooth Connectivity and App Features
Unfortunately, my folks never used the Oral-B App during their review period.
However, I will go over a few key points of the Bluetooth connectivity and the App which should be mentioned.
Tracking your brushing is a great way to find out how you are brushing and if there is any room for improvement.
Most of us could do with some tips on how to brush our teeth better, so having an App and data to check out is really great!
The cool thing with having the Oral-B App, it provides the ability to make sure you reach all the areas of your mouth and teeth.
The real-time guidance while you brush is positive and helps the person brushing to improve where needed.
Having your phone in the bathroom with you while you brush can be frustrating and I know from past experience it's not always simple to position your phone on the sink or basin.
While handy and informative, it can present some challenges that may discourage the user from actually using the technology.
Price and Value
There is some variation on pricing with this electric toothbrush series, namely because it comes in either a 1 or 2 handle product pack.
If you are after just 1 handle and the essentials, look for pricing to start as cheap as $99.00 and go all the way up to $150.00 plus.
Amazon has a single handle Smart 5000 Electric Toothbrush for $129.
The 2 handle combo is better value for money, but it is smart to wait for a sale. If you don't you can expect to pay over $200  for this electric toothbrush.
On sale, the 2 handle combo can be purchased for around $160 making it great value for money.
Oral-B Smart 5000 Toothbrush Reviews
A lot of people like this toothbrush in general.
Amazon has a listing of this particular electric toothbrush and an average rating of 4.2 stars out of 5, with 38 people leaving a positive review.
Shavershop also has happy customers who like this product, rating the Oral-B 5000 Electric Toothbrush 4.7 stars!
One customer went on to say "A brilliant toothbrush. My teeth have never felt so clean. I have only gently explored the five speed options but they all feel a bit different. I love that it stays charged for a couple of weeks".
Usage Timeline
Initial Usage

Condition: Excellent

Thought the design was great and the packaging was appealing.

The handle is a pleasure to hold.

The noise of the toothbrush is definitely something I have noticed, it's quite loud.

2 Weeks of Use

Condition: Good but there are considerations

Dad - Brushing has been good overall though I can't really tell the difference between the brush heads. Not sure an electric toothbrush is better than a manual toothbrush?

Mum - It's a good device but for me, I'm struggling with the irritation the vibration is causing on my teeth and gums.

1 Month of Use

Condition: Okay

Dad - It's been interesting to use but I think I prefer a standard manual toothbrush.

Mum - Not really enjoying the whole sensation it gives me. Think I'll stick with a manual toothbrush.
Overall
The Oral-B Smart 5000 Electric Toothbrush is a quality product.
It offers plenty of features and versatility with general daily use. Couple that with a comfortable handle and multiple brush heads you have an all-around electric toothbrush that brushes your teeth very well.
Even though the Smart 5000 Toothbrush was quality, my parents both thought a manual toothbrush was better for their needs.
Personal preference for these types of things is something to consider carefully and not all people will like an electric toothbrush.
I guess the question now becomes – Should you use an electric toothbrush?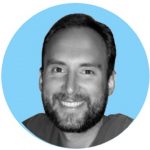 By Andrew Adams
Created at June 03, 2021, Updated at December 09, 2021