Dentists in Nowra – Google Reviewed Top 5!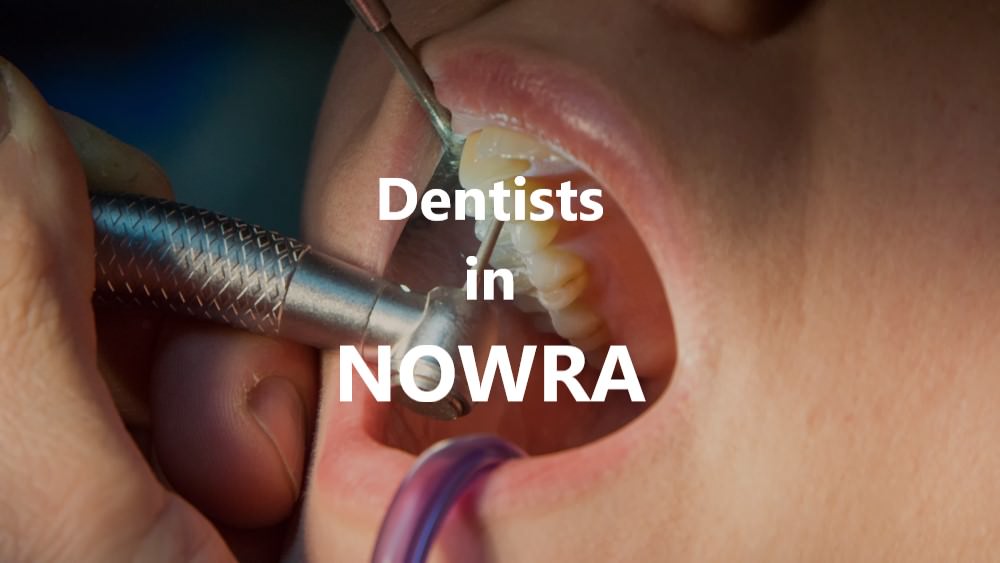 If you live in Nowra and are looking for a good Dentist, look no further.
Nowra has over 19 dentists, so it can be slightly difficult to find the one you feel is correct for you.
But today I come in – to make it easier for you and your dentist search.
My intention is to give you general but vital information – basically, I've done the homework, so you can make an informed choice.
Please note: We're not associated with any of these Dentists. Prices were gained by our secret shopper. As far as we're aware, all data was gathered correctly when writing this post.
OVERVIEW: Dentists in Nowra
Number of Dentists in Nowra:
19 +
Dentist over 4 Google Stars:
72+
Total Google Reviews Combined:
563+
TOP 5 Google Rated Dentists in Nowra
Listed below are Nowra's TOP 5 Google rated dentists.
I've based this list on their rating and the number of people who reviewed all dental clinics visited.
Please only use this as a guide.
Although ratings are a good tool for evaluating, a person's individual opinion can be very unique, so maybe different than yours.
Instead, this post can reduce how many dentists' you must look at, helping you find one suitable for your personal needs.
1. Shoalhaven Dental Surgery and Implant Centre
Google's top-ranked dental clinic, they have 5 stars and 312 reviews.
Located near the Nowra Mall, you can park at Coles car park or catch a taxi from the taxi stand.
Glancing over their website, you'll see they rely on reviews for marketing.
Reviews talk about how their Dentists' make them feel relaxed.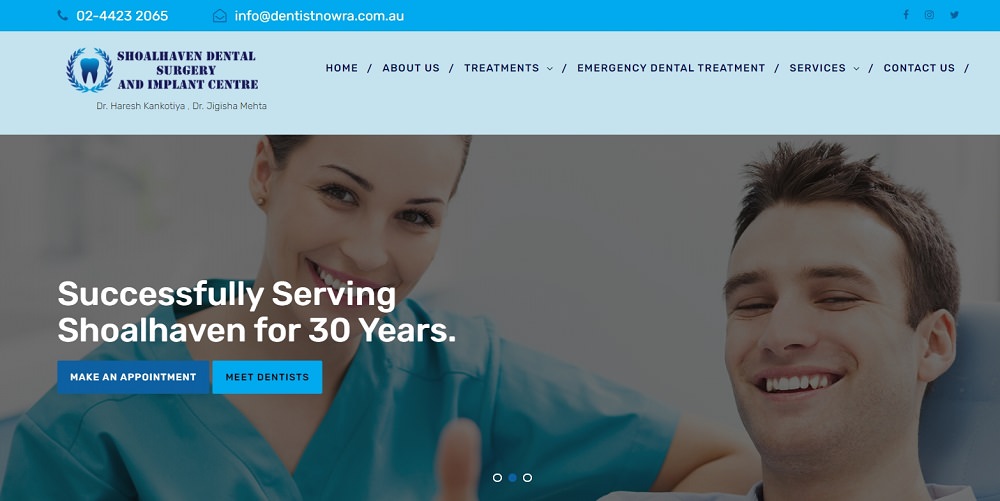 I gave them a call and enquired about prices on some dental treatments most of us think about getting during our life.
They were helpful, giving me starting prices.
This is not uncommon – as though they know the Item Codes, the dentist won't know the size and difficulty of the job until they see it.
Starting prices and Item Codes are below.
Professional clean (Codes 011, 114, 121 & 022) = $185 or more.
A dental filling (Codes 531 & 577) = $175 plus.
If you want your teeth whitened, your Dentist can do this. I was given two choices:
In-chair whitening – usually the best choice – approximately $800, then increases, depending on how many teeth you want to be whitened.
Take-home = $400.
Most prices are fairly average compared to the ADA Survey.
I feel you'll get an above-average service here, as they rely on your review. So, it's a leading choice.
2. South Coast Dentists
Second is South Coast Dentists, with also 5 stars, but 135 Google reviews.
Looking over these reviews, you'll notice their clients feel understood.
Their website gives you a similar feeling, saying they focus on your goals and your smile.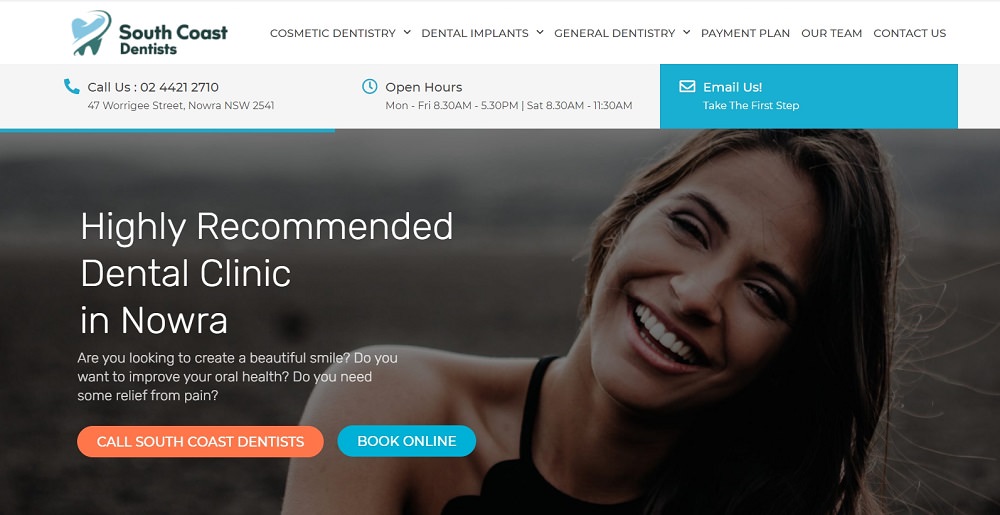 I spoke to them about the same treatments, and their prices, and was very impressed with their assistance.
For a professional clean, they include a check-up and clean (Item Codes 011, 114 and 121).
As a package, you are looking at between $200 – $270.
Item Code 022, an x-ray, is another $45.
A dental filling (Item Code 531) is around $170 – $175.
Item Code 577, an additional $40.
New patients can get an in-chair Zoom teeth whitening package for $799.
This includes your check-up, clean, whitening and x-rays – very decent value.
In terms of prices, this dentist is slightly higher than Shoalhaven in everything except teeth whitening, but not by much.
If you cannot afford these prices, they offer a payment plan.
They also gave me a more precise quote.
I believe they're worth their 5 stars.
3. Nowra Dentists
Another 5-star clinic, with 46 Google reviews, Nowra Dentists comes third.
Reading their reviews, you'll get the impression they're family-friendly and great with children.
One of the longest-running clinics in Nowra, their staff have over 70 years combined experience.
Also located close to Nowra Mall, parking is readily available.
When calling them, I was put on hold for several minutes.
But when we did speak, they were very apologetic and gave me very affordable prices.
A professional clean (Codes 011, 114, 121 and 022), comes as a package deal for new patients, at $195.
This is discounted from the below prices for each Item Code:
011 = $75.
114 = $136.
121 = $51 (but generally this has a $30 discount).
022 – $50.
This is a great deal!
Prices for dental fillings were slightly more expensive than the other Dentists, but not by much:
Their special on in-house teeth whitening is very affordable at $450 – another great saving.
Or if you wanted to trial their take-home kit, it is priced at $269.
Though rated #3, they're a great choice.
4. Amazing Dental – Nowra
With 4.8 stars and 28 Google reviews, Amazing Dental sits at fourth place.
Reviews suggest they provide high-quality service.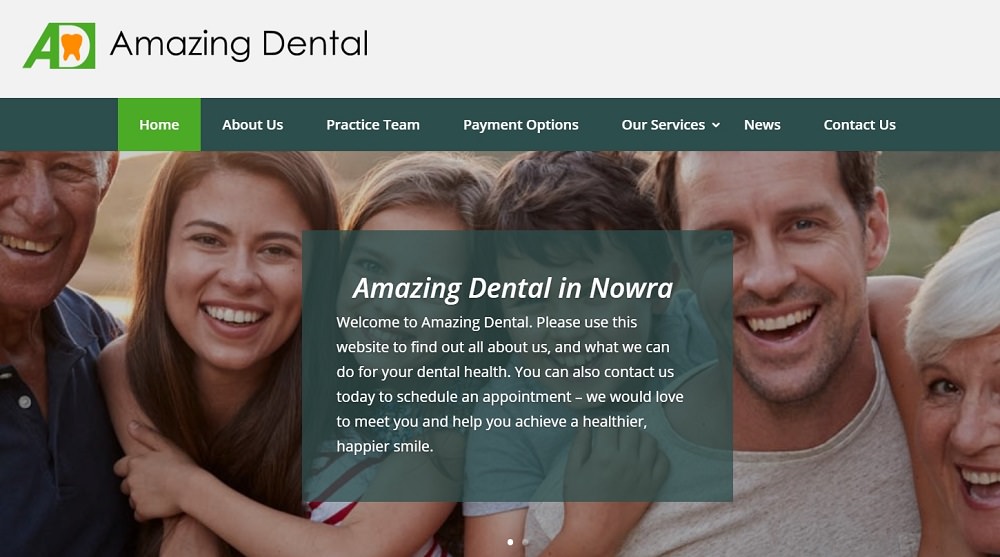 When I contacted them, they gave me more advice than other clinics.
A professional clean (Codes 011, 114, 121 &112) is $343.
Though more expensive than other dentists, they advised me Item Code 022 (an x-ray), might not be needed if you've had one in the last 12 months at your current dentist.
This is because they can request to have these transferred.
This would lower the price.
Dental fillings came as a package deal – $129 for a combination of Item Codes 531 and 577.
This was the most affordable of all dentists' in Nowra that came in the top 5.
For $750 they offer in-chair teeth whitening, and also give you a take-home kit with a mouthguard and bleaching agent – a fantastic deal.
They asked if I had private health insurance, advising me I could ring my company, give them my Item Codes, and get their coverage costs.
They also offer Afterpay which can be a handy way to pay for your treatments at the dentist.
I found them highly knowledgeable, so a great choice to sure.
5. Bomaderry Dental Surgery
Coming fifth, Bomaderry Dental Surgery has 4 stars and 7 Google reviews, most of which say their staff are friendly, and prices fair.
I called to find out more and see if I could get some prices on treatments that are pretty typical on a day to day basis at a dentist practice.
They were the most expensive, but the prices were still reasonable.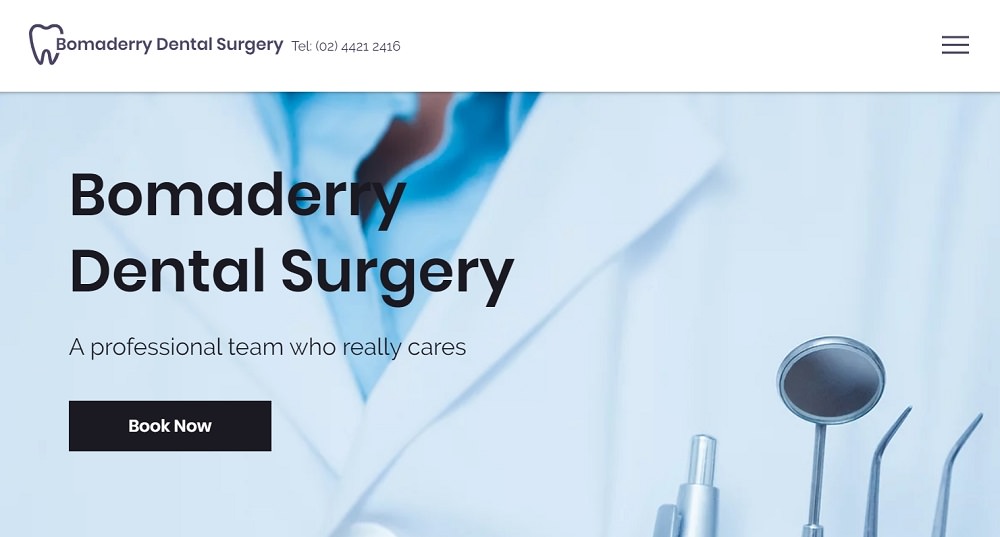 For a professional clean, I was quoted:
011: $60.
114: $115.
121: $45.
022: $45.
A dental filling costs:
For teeth whitening, you can expect to pay $500 for impressions of your teeth.
Located in the heart of Bomaderry, with plenty of free off-street parking to make accessibility easy.
It's also within walking distance from the Bomaderry train station and bus stop making it very convenient.
I was very impressed with their receptionist, who knew the Item Codes off the top of her head.
So, they're a great choice as well.
Conclusion
I hope I have made your search for a Dentist in Nowra easier, and wish you the best of luck finding your perfect Dentist.
These dentists have my admiration for earning their place amongst the TOP 5.
I verified their position with Google ratings and reviews, thoroughly checking their websites, and calling and asking questions.
Remember though, there are still many other great dentists in your area.
Google can help you here and provide clarity when there are plenty of dentists in the area.
One suggestion about changing Dentists – ask your current Dentist for your Item Codes for your recommended treatments.
Armed with more knowledge, you can make a more educated choice regarding your treatments.
To compare costs on dental treatments, feel free to use our Dental cost calculator.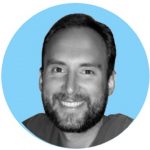 By Andrew Adams
Created at July 29, 2021, Updated at July 29, 2021