Colgate Total 12 Toothpaste Review
Colgate Total 12 Toothpaste Review
Total 12 Whole Mouth Health Toothpaste by Colgate is reliable and offers a mild yet refreshing and thorough clean.
Readily available in most stores and through online retailers, this toothpaste has been a favourite amongst Australians. for some time. Let's see why!
Pros
Mild on your teeth and gums
Well-designed tube, with a firm flip lid that holds it upright and balanced
There's no strong aftertaste with this toothpaste, mild tasting!
Cons
Doesn't really whiten teeth – other options provide better results
Quite a lot of chemical ingredients found in the product
Technical Details
Dimensions

115g - 15.5cm long, 5cm wide

Notable Materials

Plastic tube

Manufacturing Country

China

Warranty Information
Full Review
Colgate mentions that their Total 12 Toothpaste fights bacteria on not just teeth, but also your tongue, cheeks and gums for 12 hours (with fine print – 4 weeks of continuous use).
It also provides protection against plaque, stains, tartar and cavities and focuses on gum health.
I've been testing this toothpaste for nearly 3 months in Sydney, Australia. Let's check out my review below!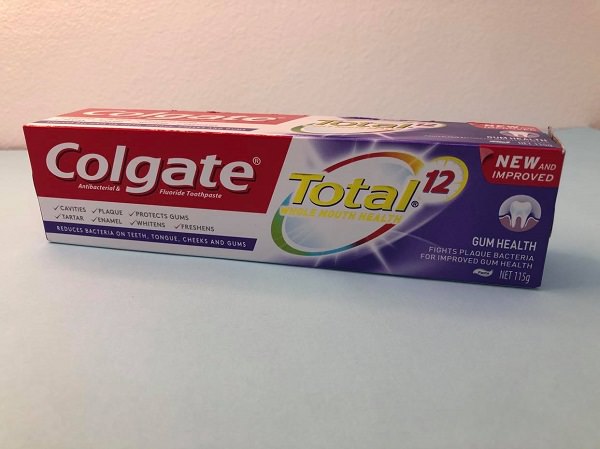 First Impressions
My first impressions of the toothpaste have been very positive.
I'm happy with the way it cleans and the refreshing feeling I get after I use it.
Overall it's a mild toothpaste that's not harsh and definitely not abrasive.
It feels like it does the job but doesn't over foam or impact my enamel.
It's genuinely refreshing and doesn't leave a nasty lingering taste once I finish brushing.
I'm happy using it before I go to bed and when I wake in the morning.
I've been using this toothpaste for nearly 6 months now and I purchased this product before I started this review so I've had a long time to try and test it.
Just recently, we received some sample products from Colgate at the Australian Dental Association exhibition in Sydney, and one of the samples was the exact toothpaste that I was using.
We are not paid to review this product, just thought you should know.
Packaging
It's got a lot of detailed information that makes you understand what it will be used for, and the benefits of the product.
It's anti-bacterial and fluoride toothpaste and states it's new and improved.
They say it fights plaque bacteria and has been improved for gum health.
It also states that it reduces bacteria on teeth, tongue, cheeks and gums. It's a big statement!
Design of the Tube
I'm reviewing the 115-gram tube.
It's a really nice size and aesthetically pleasing to the eye. It's not in your face because it's not overly large.
The tube should be able to fit on top of your sink or in your bathroom cabinet easily.
It has a well thought out lid which allows the tube to be stored firmly without it falling over.
It's wide enough to take bumps and knocks while in the cabinet, so you know it will stay put and in place.
The lid is decent and it closes well and clicks in perfectly. It's solid in its construction, which is great to see.
With regards to the tube, it feels like the right size to have. Not too big or small. So I think it's perfect in its size. You can get bigger sizes if needed.
As far as applying toothpaste from the tube, I found it very easy to achieve a sufficient amount of toothpaste to my brush.
Over the course of my reviewing time, I have never had a moment when I thought "damn I put too much on my brush".
This is due to how the toothpaste comes out of the lid opening. I think it's a good design and worthy of a mention.
Some Directions for Use
There are 4 simple steps to follow if using this toothpaste.
They are as follows:
Brush thoroughly at least twice a day or as directed by your dental professional.
Do not swallow. Rinse with a small amount of water.
Not recommended for children six years or less. Colgate recommends specially formulated Colgate children toothpaste.
Up to 12 hours of protection against bacteria within four weeks of continuous use.
The company confirms also that no Colgate toothpaste contains sugar.
This toothpaste has been designed to fight cavities and plaque, it protects gums and enamel, whitens and freshens your teeth
The 'whitens' teeth part could be removed as the toothpaste doesn't really as a whole, whiten teeth.
The only way to really whiten one's teeth is with a safe and monitored % of hydrogen Peroxide.
There's no warranty or guarantee on the package, but it does have a number for residents of Australia or New Zealand.
Any questions, comments, you can call them. I'm sure there'll be someone there to answer your concerns if you have an issue with this toothpaste.
A good thing to note is to make sure to store below 30 degrees.
What's in the Toothpaste?
There is a bunch of ingredients on the package and there seems like there's quite a lot of chemical based ingredients that make up the Total 12 toothpaste by Colgate.
You find most of these active ingredients in normal typical toothpaste in Australia. Let's run through them.
Ingredient List
Glycerin
Hydrated Silica
Water
Sodium Lauryl Sulfate
Arginine
Flavour
Zinc Oxide
CI 77891
Cellulose Gum
Poloxamer 407
Tetrasodium Pyrophosphate
Zinc Citrate
Benzyl Alcohol
Cocamidopropyl Betaine
Sodium Fluoride (0.32%)
Xanthan Gum
Sodium Saccharin
Phosphoric Acid
Sucralose
I know what you are thinking… "Wow, that's a pretty full on list of Ingredients!" I was surprised when writing the list the amount of chemical based ingredients found in the product.
It's important to note, many other toothpastes on market do have similar incredients so it's hard to point the finger at Colgate. Further investigation into types of incredients found in toothpastes is required!
Who Should use this Toothpaste
Basically this toothpaste is designed for anybody that is looking to protect their teeth against cavities, plaque build-up and wanting to protect their gums.
It also can potentially stop or prevent any tartar build up and protecting your enamel in the process. It also says that it whitens your teeth and freshens.
If you are considering to whiten your teeth and you've read on the packaging that this toothpaste can whiten you teeth, I'd probably look at other options.
Toothpaste in general doesn't really whiten your teeth to the degree that some whitening kits or the better professional whitening options can.
This product is made for anybody over six years old, who wants to look after their teeth. I'm sure if you're using it twice a day correctly, it will keep your teeth in reasonable condition, as long as you're brushing properly and doing all that hygiene stuff correctly.
Colgate Total 12 Toothpaste Features
When I think about the features of this toothpaste, I would definitely say it has a mild and refreshing taste.
It's pleasant when using and it feels like it does clean your teeth and freshens your breath every time, which is a big thing.
I've used Colgate toothpaste a lot of my life. I'm familiar with it, so I'm happy using it. I wouldn't say I'm not biased towards the brand but definitely know the brands' particular taste.
I believe it is one of the better tasting toothpastes on the Australian market today.
Things to Think About
The product is made of a bunch of different ingredients and some are chemical based. If you are someone that likes or needs a toothpaste that is mostly organic or natural this might not be for you.
Colgate confirms that this toothpaste should not swallowed. I wouldn't say it's dangerous, but I wouldn't be eating it or consuming it willy nilly.
Price and Value
Average price for this toothpaste is around $5.00 – $5.50 per 115 mg at the time of writing. I have seen it on Big W's wesbite for $3.00. Pretty cheap at that price!
For the amount of toothpaste you get and the time it takes to use it, I believe it's good value for money.
Remember, we should only be using a pea size amount of toothpaste per brushing session. This helps keep usage down so you have it longer.
Usage Timeline
Initial Usage

Condition: Excellent

Great tube and lid design
Mild and refreshing toothpaste
Not abrasive on my teeth

2 Weeks of Use

Condition: Great

Tube and lid design holds up
Happy with the taste of the toothpaste
Mild and not abrasive on my enamel and teeth

3 Months of Use

Condition: Great

Tube and lid design still holding up, easy to get the right amount of toothpaste needed
It's a toothpaste that you can use ongoing, mild and gentle
Has kept my teeth clean with the correct brushing routine
Overall
I have only positive things to say about his toothpaste.
It feels like it cleans my teeth well and refreshes my mouth nicely.
A mild toothpaste which does a good job overall.
You do have to check the ingredients on the package to see if they sit right for you. Some people may choose not to use it based on some of the ingredients found in the product.
Saying that most kinds of toothpaste on the Australian market do have similar or share ingredients found in Colgate Total 12 Toothpaste.
I was very happy with the tube and lid function. Thought the 115 mg tube was designed very well and useful in its application.
Thumbs up for this toothpaste by Colgate.
Have you tested or used Colgate's Total 12 Toothpaste? Let us know what you thought of it in the comments below..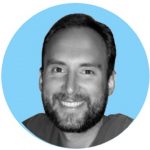 By Andrew Adams
Created at April 17, 2020, Updated at September 16, 2021