Colgate Optic White Stain-Less White Toothpaste Review
Colgate Optic White Stain-Less White Toothpaste Review
Colgate Optic White Stain-Less White Toothpaste is unique and provides the user with some key benefits.
A toothpaste that has 2% Hydrogen Peroxide provides a decent whitening experience for toothpaste.
I found this particular Colgate toothpaste pleasant to use and there were some surprises along the way.
Let's check it out!
Disclaimer: Dental Aware is supported by its readers. If you click on one of the links and buy something, Dental Aware may make a little bit of money at no additional cost to you. We only promote products that our team truly feels will be valuable to you.
Pros
2% Hydrogen Peroxide use in the whitening formula that works well.
You are able to use it every day, works as your daily toothpaste and whitening product.
It's a very convienent way to remove stubborn and darker stains from your teeth as you brush.
Cons
Still only 2% hydrogen peroxide so results are restricted.
RRP is fairly high at $10.00 - Finding discounted prices is recommended.
If you have very sensitivity teeth you may experience slight discomfort which is only temporary.
Technical Details
Dimensions

Tube is 15cm long x 6cm wide at the end and a 3.5cm wide lid.

Notable Materials

2% Hydrogen Peroxide
Full Review
The Colgate Optic White Stain-less White whitening toothpaste has been designed to use as part of your daily dental routine but also provide you with a whiter, brighter smile, at the same time.
What sets this whitening toothpaste apart from some others on the Australian market is that it has 2% hydrogen peroxide in the toothpaste formula.
You might think that this isn't a whole lot but it appears to be just enough to make a substantial difference at the end of the day.
I review this whitening toothpaste by Colgate in detail, from packaging and design to how it went with whitening my teeth.
I share my thoughts and experiences below…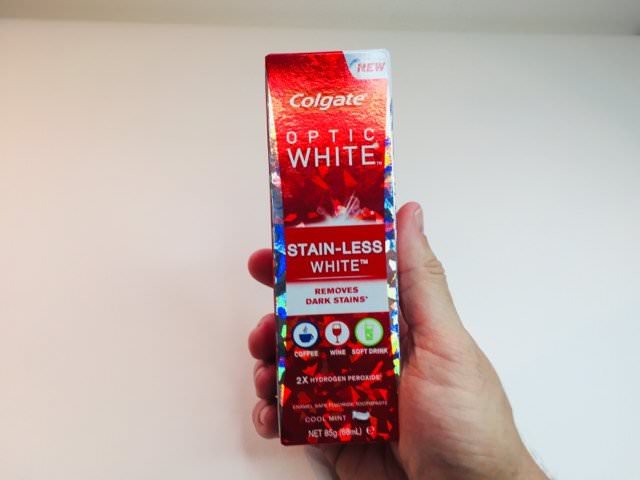 Key Benefits with Colgate Optic White Stain-less White
Colgate states there are 5 key benefits with using this type of whitening toothpaste.
And I have to agree with these mentioned below. It was the case for me.
Whitening toothpaste to remove dark stains from coffee, wine & soft drink in 3 weeks.
Contains 2x the whitening ingredient dentists use –  2% Hydrogen Peroxide.
Removes stains ordinary toothpaste don't with regular use.
Fluoride formula for daily anti-cavity protection, enamel-safe.
All the benefits of a regular daily use toothpaste plus a whiter, brighter, bolder smile.
My First Impressions
The first thing I noticed was that extremely cool mint flavour.
It made my mouth and breath feel refreshed after each use.
The texture of the whitening toothpaste was reasonably firm and held its form on my Oral-B Pro 2 2000 Electric Toothbrush.
Optic White Stain-less White provided a good, solid clean and after a few days of using it, once in the morning and once in the evening, I started to see improvement in the whiteness of my teeth.
Packaging and Design
Colgate has presented this whitening toothpaste in a very captivating and stylish packaging.
The box has that really red vivid colouring, with all the information printed on it.
The tube is 85g, which provides enough toothpaste to do the job and doesn't take up a huge amount of room in your bathroom cabinet.
The flip lid is well made and also allows the tube to be stored upright, something I really appreciated while using this Colgate whitening toothpaste.
Does Colgate Optic White Toothpaste really work?
My review of this product has been over a period of 4 weeks.
I used it every day, morning and night during this review timeframe and believe it worked well to remove certain stains from things I enjoy like coffee, and the occasional wine or soft drink.
My family and friends also noticed an improvement and commented that my teeth are looking whiter.
I would say my teeth got roughly 2 shades whiter in the 4 weeks of use and I was happy with it overall.
How long can you use Colgate Optic White?
Colgate confirms that you can use this toothpaste twice a day with your normal oral hygiene routine.
The hydrogen peroxide used is only 2% so its enamel-safe fluoride toothpaste.
I never had any issues with using this toothpaste every day for 4 weeks. I actually quite enjoyed how it gave my teeth and breath a very refreshing feeling.
Colgate does state on the packaging that some people may experience slight sensitivity or gum discomfort when using this whitening toothpaste.
They reiterate, that it is not harmful and that any discomfort will be temporary.
What Ingredients are Used?
There are quite a few different ingredients used in the Optic White Stain-less White toothpaste by Colgate.
16 in total.
Below is the list of ingredients used:
Propylene Glycol
Calcium Pyrophosphate
PVP
PEG/PPG116/66 Copolymer
PEG12
Glycerin
Flavour
Hydrogen Peroxide
Sodium Lauryl Sulfate
Silica
Tetrasodium Pyrophosphate
Disodium Pyrophosphate
Sodium Saccharin
Sodium Monofluorophosphate
Sucralose
BHT
On average, most of the standard kinds of toothpaste that we've reviewed and tested have roughly between 8 – 20 ingredients in them.
16 is high but not out of the ordinary.
Directions for Use
Colgate mentions 5 simple steps to follow when using the Optic White Stain-less White Toothpaste.
These are as follows:
Brush thoroughly at least twice a day or as directed by your dental professional.
Do not swallow. Rinse with a small amount of water.
Do not use for children 6 years of age or less.
Keep out of reach of children.
Store below 25 degrees celsius.
Price and Value
At the time of writing this post, the best price I could find was $4.99 at Priceline. That's 50% saving!
The recommended retail price is $10 but on average it currently seems to be selling around the $8.00 mark.
I think anything between $5.00 – $8.00 represents good value for money but if you can pick it up for $5.00 it's great value!
Overall
Colgate's Optic White Stain-less White Whitening Toothpaste is definitely got a lot going for it.
In terms of daily use, I found it offered a very refreshing clean and I liked the cool mint flavour.
The whitening aspect has ticked a lot of boxes in my book and I was pleasantly surprised with how it turned out, whitening toothpaste in the past has been known to fall short in getting results.
The fact that Colgate Optic White Stain-less White has 2% hydrogen peroxide (the active whitening ingredient found in most whitening products) is beneficial in my mind.
In my experience over the course of this review period, it effectively removed some of the stubborn stains that I got from eating and drinking certain things, coffee mostly.
Colgate has produced a whitening toothpaste that does two things; firstly you are able to use it for your daily oral care routine, as well as to refresh up and make your teeth a little whiter and brighter at the same time.
I thought it was a good whitening toothpaste overall and did the job it was meant to.
Have you tried a whitening toothpaste that worked well?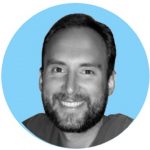 By Andrew Adams
Created at September 24, 2020, Updated at September 15, 2021