Smile Bright White Kit Review
Smile Bright White Kit Review
Smile Bright White Teeth Whitening Kit is well known in Australia.
With a mixture of kits and bundles available, it looks like the brand has you covered.
Pros
Simple and easy whitening kit to use
A well-made and compact teeth whitening kit
6 LED lights used in the Smile Bright White LED
Cons
Only around 9 treatments of whitening gel - a little light on with gel
30 minutes is quite long and can cause some discomfort
Only slight change in whiteness over 7 days of use
Technical Details
Notable Materials

6% Hydrogen Peroxide as the whitening agent

Manufacturing Country

TBC - No information noted on their website or kit

Warranty Information
Full Review
Smile Bright White is another stylish and well-known teeth whitening kit on the Australian market.
The kit comes in beautiful packaging that is secure and functional.
It was delivered via express post, so I got it within a couple of days which was great!
The actual kit box was wrapped up in plastic which protected it while in transit.
I like that it came quickly and it was delivered without any issues.
Our reviewer, Leonie has tested this whitening kit for 7 days and below are her thoughts and opinions.
Leonie's First Impressions
I liked the colours used for the packaging and thought the overlook was a more high-end design with the hard case magnetic box.
The contents were displayed well and instructions simple to follow and very clear.
It was easy to use however I would not like to leave it in any longer than 30mins as I feel time in excess of this would lead to some discomfort.
In regards to results, I could definitely notice areas of my teeth whiter (near the gum line and kinda space between the teeth) this was noticed only after 2 applications.
I think overall I was happy with the product however I didn't notice a huge change. I would use again for the maintenance areas to keep whiter.
Packaging and Design
Smile Bright White has chosen a very appealing aqua colour as their feature on the packaging.
The colouring is around the side of the box with the small, Smile Bright White logo printed on its side.
The back has some information in different languages going over what's in the kit.
Very happy with the presentation of the Smile Bright White Kit overall, the design of the box and packaging is first-rate.
The colours that they've used, makes it look very professional in a dental way.
A clean and modern kit that stands out and is very attractive to the eye.
Inside the Smile Bright White Kit
This professional kit comes with the following items included:
3 x 3ml Teeth whitening gel syringes
Silicon dual universal mouth tray
LED Activator Light to speed up the whitening process
A Shade Guide for monitoring your whitening success
Teeth Guide with easy to follow steps
The 3 whitening gel syringes of 3 mls each, which gives you approximately 9 dual arch applications. When I say dual arch I just mean tops and bottoms.
When you open up the kit, the 3 syringes are housed in a secure plastic cutout, above on the left-hand side of the box if you're opening it up.
Smile Bright White has opted to provide sleek syringes, which is quite nice and makes it a bit more compact and less bulky overall.
LED Light
The LED activator has 6 LEDs and feels very secure and well made.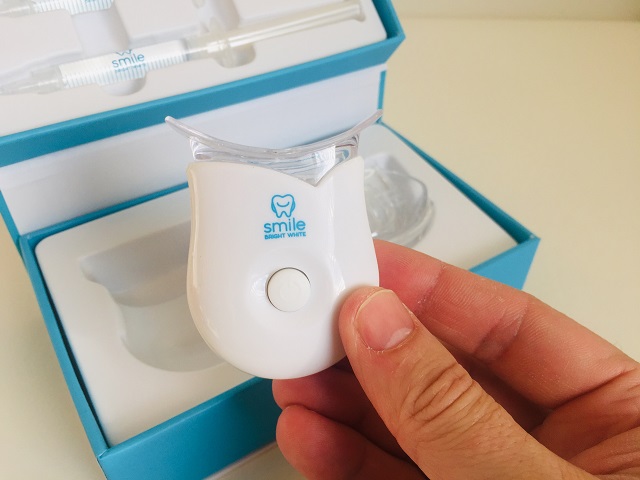 You've got to twist off the cap at the back of the LED so that you can remove a plastic tab inside, which stops the batteries from going flat.
It's fairly simple and easy to do, just make sure you close the cap properly.

Mouth Tray
The mouth tray is also well made and has a slight design change to some others on the market.
There are these lines that run horizontally across the inside of the mouth tray.
This potentially aids in the whitening process to some degree.
There are also some three little indentations, on each side of the tray, I'm guessing to help hold the tray while you bite down onto the mouth tray.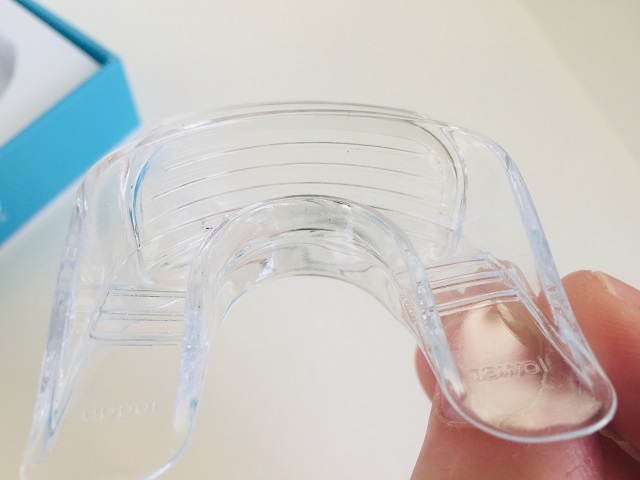 Smile Bright White's mouth tray is already moulded so you don't need to put it in boiling water.
A mouth tray that you don't need to mould to your teeth does offer less perfect fitment to your teeth and mouth.
However, having a universal type of mouth tray is super easy and much less to worry about.
The mouth tray fits nicely and securely onto the LED light.
A little bit of fiddling is needed when first using the LED and mouth tray, but it works well once you do it a few times.
The silicone material used is good quality, I feel like it's going to be able to do multiple whitening treatments in the future.
8 Simple Instructions
The instructions are very straightforward and explain the treatment process in a clear way.
Brush your teeth and make sure they are clean
Remove batteries from the LED Light and remove the plastic tab, and reinsert the batteries
Attach and connect the mouth tray to the led light.
Remove the syringe cap and replace with an applicator piece.
Apply 0.5ml of teeth whitening gel to the top and 0.5ml to the bottom of the mouth tray. This is a thin line on the front wall of the mouthpiece.
Place the tray in your mouth and apply pressure to ensure even application.
Turn the light on and apply for between 30-45 minutes.
Once the time is reached, turn the light off and rinse the tray and mouth.
Smile Bright White Tips
There are a bunch of tips for success, which we'll run through.
Tip 1
Whiten your teeth daily for 30 to 45 minutes per treatment over a period of seven days, or until your ideal shade of white is achieved.
Best results are achieved in seven to 14 days.
So with this first tip, you can stretch it out and use it up to 14 days, but you got to be mindful, if you do have any irritation or discolouration or sensitivity, just stop, take a break, and then continue later on if you feel like it.
Tip 2
Each gel syringes have up to three dual arch applications, top and bottom, additional whitening gel syringes can be purchased through their website if needed.
So there's a limit to how much whitening you can do with this kit. So just keep that in mind, sometimes you can do a little bit less gel and that will last you longer.
The more consistent in keeping to the recommendations, you should have a whiter smile in seven days.
Tip 3
Avoid or minimise your consumption of coffee, tea, red wine, soft drinks, as these encourage staining on your teeth.
Now, this tip is very important.
If you really want the best results possible, you got to look at your diet, look at the consumption of these particular drinks and food types and just stay away from anything that can potentially create surface stains that might hinder the whitening process.
Tip 4
They recommend whitening every six to 12 months or as required to maintain a bright white smile.
Ingredients
Smile Bright White has 10 ingredients in their whitening formula:
Ingredients
Hydrogen Peroxide 6%
Glycerol
Propylene Glycol
Deionized Water
Triethanolamine
Carbomer
Carboxymethyl Cellulose
Polyvinylpyrrolidone
Potassium Nitrate
Menthol
As you can see, Smile Bright White has chosen hydrogen peroxide as the whitening agent.
6% is the most a retail product can offer and does an okay job at whitening your teeth.
The thing to remember with whitening kits that you buy online is the dental strength they state isn't really true.
A professional in-house treatment by a dentist will use up to 25% hydrogen peroxide, as well as give you a "take-home kit' which can be as much as 10% hydrogen peroxide.
It's important to understand what you are buying and how long a product will provide results for.
As far as Smile Bright White is concerned, they use standard ingredients that are seen across the whitening kit market.
Results are reasonable but are limited due to the application and whitening agent % used.
Price and Value
Currently, at the time of writing this post, there is a 25% discount available when purchasing the Pro Teeth Whitening kit by Smile Bright White.
At $89 Australian, this price seems to be the average when looking at whitening kits.
Value for money is still there, as the product is well made and presented beautifully to the customer.
If you are wanting more than 9 treatments and better value for money, then you can opt for Smile Bright White's Advanced bundle which doubles the amount of gel you get.
Price at $129.99 you get a discount of just over 27% with more gel to whiten your teeth.
Returns and Guarantees Discussed
Smile Bright White also offers a 90 day, 100% Money Back Guarantee.
However, there are some conditions with this guarantee and I'll run through these below.
If you don't achieve a minimum of two shades whiter teeth when using our teeth whitening kit, they will provide you with a 100% refund, less their postage costs.
To support your claim, Smile Bright requests that you provide some form of photo evidence of your whitening results.
Before and after photos using the tooth shade guide provided in each kit is what they are requiring.
Photos should have a timestamp or similar to identify dates and you just contact their customer support team who will be able to assist you.
Usage Timeline
Initial Usage

Condition: Excellent

The first treatment, comfortable enough, left for 30mins...wouldn't like in mouth longer

Day 2

Condition: Excellent

Noticed teeth sensitivity from 1st treatment

Teeth sensitive after treatment

Day 3

Condition: Great

Teeth sensitive after treatment

Noticed teeth whiter in areas, I.e. where teeth join and along the gum line

Day 4

Condition: Great

Noticed skin sensitivity on inner lip and gums and peeling skin (like when burning on something hot) after 3rd treatment

Less gel applied for the treatment

Teeth initially sensitive after treatment

Day 5

Condition: Great

Teeth initially sensitive after treatment

Day 6

Condition: Great

Day 7

Condition: Great

Only slight teeth sensitivity was felt
Overall
The Smile Bright White Teeth Whitening Kit has everything you need to start whitening your teeth.
Our reviewer Leonie really liked the packaging, how it looked and how easy it was to use.
Instructions were clear and she never felt overwhelmed when using it.
There was some slight sensitivity while Leonie used this kit but it wasn't much.
Value for money is reasonable and results were subtle but noticeable.
Overall, our reviewer thought it was a decent whitening kit.
What did you think of the presentation of the Smile Bright White Kit?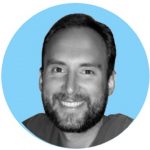 By Andrew Adams
Created at August 25, 2020, Updated at September 16, 2021