Review: Bondi Smile's Teeth Whitening Pen
Review: Bondi Smile's Teeth Whitening Pen
Today I'm going to review Bondi Smile's teeth whitening pen.
Bondi Smile has a decent following and is one of the top ten teeth whitening brands in Australia.
The brand prides itself in providing a great product for its customers to use and is reasonably priced.
But the question that was on my mind, does this teeth whitening pen work?
let's get straight to the point of this pen and see if it does!
Pros
Easy and safe - use and apply the gel in seconds
Claims to whiten between 2 – 8 shades whiter
A convenient way to whiten your teeth - take it anywhere with you
Cons
The whitening gel can leak
Not as effective as a whitening kit
Gum irritation can occur if you get the whitening gel on them
First Look at Bondi Smile's Whitening Pen
The pen comes in a very neat and compact little box. Very smart looking really.
It has a lot of information on the box itself but doesn't overwhelm you when looking at it.
Inside the shipping parcel, customers get a thank you card which comes with a loyalty bonus discount of 15% off your next purchase.
I thought that was a nice touch and put a smile on my face when reading the card.
When taking the pen out of the box, I was pleasantly surprised as it was in a stylish silver casing.
This pen could fit nearly anywhere. If you were travelling or just commuting for work, it could fit into most bags or just in your pocket or jacket.
The pen, in my eyes, is something you can use any time of the day or night.
The ease in which it's able to be used shouldn't restrict you in applying and making your teeth whiter.
Whitening Pen Application
Applying the teeth whitening gel was pretty easy.
Hold the pen in either hand with the words Bondi Smile visible and remove the lid which is on the left-hand side of the pen case.
I found the lid secure and it clicked into place swiftly.
If you are wanting to use this product during the day and are carrying it with you the lid seems safe enough from potential leakages.
To activate the gel onto the pen, you just need to turn the bottom (right-hand side) of the pen clockwise until you can see gel forming on the bristles of the pen.
The first time I tried I was too excited and turned the mechanism little too many times, causing an excess of whitening gel to run onto my fingers.
As I continued to use the pen it got better. I took my time with the application and it seemed to work. Slow and steady is my recommendation here.
Whitening gel on your gums can create slight burning and sensitivity issues, so be gentle and precise when applying the pen onto your teeth.
Lucky I had a steady hand and it wasn't a problem with this pen. I was able to reach most teeth, even the molars (back teeth) without too much effort.
Some people might have difficulties in reaching the back teeth if you have a small mouth and can't fully open your mouth wide.
Carbamide Peroxide (18%)
Glycerin
Carbomer Xylitol
Triethanolamine
Peppermint Extract
Aloe Barbadensis
Leaf Juice
What set the Kit apart from the pen is the ability to concentrate the whitening effectiveness for a longer period of time.
Have the kit mouth tray and LED light does improve the overall results with whitening treatments.
Bondi Smile Pen Instructions for Use
As far as the directions are involved, the box has instructions clearly stated on one of the sides.
It had points confirming it was:
Safe and easy to use
Cleans while whitening
Apply in seconds
2 to 8 shades whiter
It also says make sure to dry your teeth when using the whitening pen. More on this later.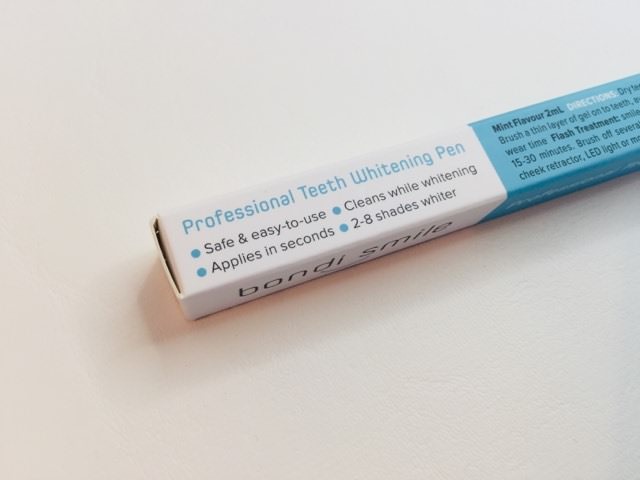 It gives a couple of options relating to timeframes and this depends on how much or how long you want to use this pen for.
These two options are:
A flash treatment, smile for 60 seconds
For tougher stains wear for 15 to 30 minutes and then brush off after
It also states, to use their teeth whitening kit for optimum results.
So it must be said that, even though it says it's a professional teeth whitening pen, at the end of the day, it's just a whitening pen.
The good thing is that the ingredients used are the same as the kit so aids in keeping your smile white between kit treatments.
When I hear the words professional or dental grade it's usually a good old fashion marketing statement.
I'm not talking only about Bondi Smile here, but the majority of the teeth whitening companies out there use statements to encourage people to purchase a product (I guess most companies use these techniques, so it's not new).
What matters at the end of the day is that the results the teeth whitening companies report on packaging and advertising are exactly what you'll receive when using their products.
Just something to think about when opting for whitening treatments.
A Couple of Issues I had with the Pen
When using this pen, I did have a little bit of an issue with the whitening gel.
I found that it came out and started dripping onto my fingertips.
That might've been because I was too heavy handed with the first twist function on the pen to release the whitening gel, but I soon worked that out and it wasn't an issue from there on.
The other slight issue I would say is it is hard to keep your mouth dry while applying this pen, the solution to your teeth.
The reason being is that the saliva, the mouth itself, is quite a wet place and it will be hard to keep it dry for the solution to work effectively.
So you have to hold your mouth open for a period of time for it to really work, in my view.
Hydrogen Peroxide Levels
Hydrogen peroxide for non-dental teeth whitening treatments is capped at 6%.
Now for a professional treatment in-house teeth whitening, you're looking anywhere from at least 10% all the way up to 25%.
It's a huge difference, you will be able to see the results but you will pay for it.
Bondi Smiles whitening pen is a great little product and it helps to keep your teeth white. Maybe 'maintaining' is probably a better word to use.
Price and Value
The Bondi Smile Teeth Whitening Pen is currently priced at $29.95 which puts it in the middle of the road as far as price is concerned.
If you are a seasoned online shopper you may be able to find yourself a lower price with a discount code.
But, either way, $29 plus change offers value for money for a compact way to whitening your teeth in my opinion.
Overview
Bondi Smile's teeth whitening pen is a great option for when you are on the go and need a quick touch up.
Their whitening pen can also be a substitute for people who just want a simple whitening option that doesn't take long to apply.
It's relatively easy to use, and if you're motivated to use it consistently, it should whiten your teeth by the stated two to eight shades.
A great little product which is affordably priced and does what it says.
Thumbs up for this Australian brand whitening pen!
What are your thoughts on Bondi Smile's whitening products?
It's important; we haven't been paid to review this product, it was gifted to us so we could share our thoughts and help the teeth whitening community by giving them the information they need to make an informed decision.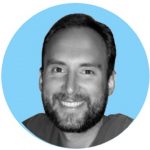 By Andrew Adams
Created at April 15, 2019, Updated at September 16, 2021