Kappi Eco Bamboo Toothbrush Review
Kappi Eco Bamboo Toothbrush Review
A simple yet appealing and stylish design, the Kappi Eco Bamboo Toothbrush gives us an opportunity to be more eco-friendly when brushing.
Almost 100% biodegradable, sustainably sourced bamboo and BPA free, this toothbrush aims to make a difference to the environment and the people who use it.
Let's see if it's eco properties are as good as it's brushing qualities.
Pros
Eco-Friendly, sustainably sourced and BPA free toothbrush
A simple yet stylish bamboo design - Appealing to look at
Dental hygiene inspired - season emblems help you remember to change your toothbrush on time
Cons
Bristles are fairly simple and don't have a mixture of lengths to them
Reasonably large toothbrush head size - people with smaller mouths might have issues
Can't buy these toothbrushes separately - available only in a 4 or 8 pack
Technical Details
Dimensions

Brush - 19cm x 1.5cm x 1.8cm, Packaging - 20cm x 2.8cm x 1.8cm

Notable Materials

Sustainably sourced plantation bamboo, Nylon medium bristles

Manufacturing Country

China

Warranty Information
Full Review
Kappi's eco-friendly bamboo toothbrush is sustainably sourced and is quite striking when you first look at it.
In this review, I'll be running through my first impressions of this eco bamboo brush, what I thought of the packaging and how it was to brush with.
Kappi was very kind to provide their 4 pack to us for this review which gave me a complete understanding of the brand and the brush.
A quick note: This isn't a paid sponsorship. We reached out to Kappi who gifted this product to us so that we could review it.
First Impressions
I liked the clean and simple design of the packaging.
Given the recyclable box it came in, I had a sense that the brand was keen to make a difference.
Taking the toothbrush out, I was immediately drawn to the round handle.
It's tastefully designed and I loved that it's got a round base, so you can stand the toothbrush up without too much difficulty.
The bristles are nylon and are pretty straightforward. A very simple design with quite a lot of space between the groups of bristles.
Kappi's created a comfortable toothbrush to hold while you use it and is well placed in the palm of your hand.
Packaging and Design
It came in a very convenient and simple recyclable box. The colouring and texture throughout the cardboard gave it an eye-catching presence.
A beautiful and clean Kappi logo is positioned on the front of the packaging.
No information was found on the box, but to be honest it wasn't something I missed or needed.
If I had any questions, Kappi's website was detailed and provided all information on the product.
This toothbrush has beautiful lines and is quite memorable to hold.
The white painted base is a nice touch, giving it a really clean and fresh look.
The Kappi logo is on the base of the toothbrush, and if you turn it around, there are four different 'season' emblems visible on each of the brushes, including; summer, winter, autumn, and spring.
Each box that houses a bamboo toothbrush comes with little colour code stickers that indicate what 'season' is inside.
I really was impressed with his little detail, it's a great way of remembering to change up your toothbrushes every 3 months.
The Kappi Toothbrush
Looking at the handle, the round part of it seems to be perfectly fitted to grasping it.
The neck of the toothbrush tapers down and becomes slender towards the actual head.
There wasn't much flexibility in the neck and felt pretty ridged.
The bristles are nylon and reasonably soft for medium firmness. As the dentist recommends, soft is good!
Kappi's bristles aren't tapered or multi-levelled, they are straight and are produced in a unison fashion across the brush head.
Testing the Kappi Toothbrush
I've been using this bamboo toothbrush for over one month and have found that it cleans and brushes my teeth reasonably well.
I found it fairly easy to maneuver around my mouth when brushing and there weren't any major issues using it I could see.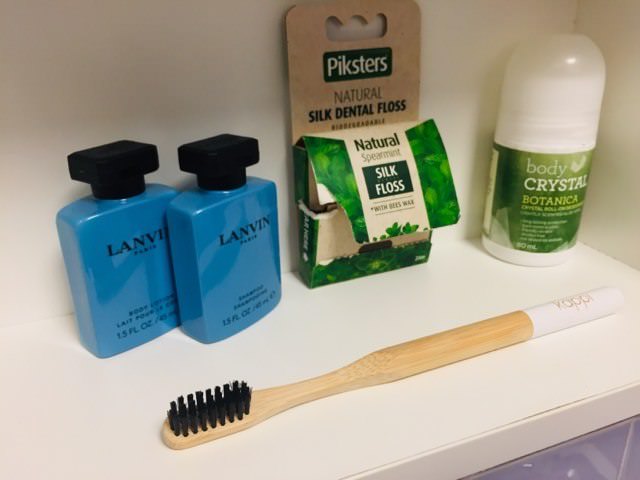 It's a nice brush to hold and I really liked how it looked and felt in my hand.
The design of the bristles is pretty straightforward with quite a lot of space between them.
I'm guessing that this just aids in not letting water sit there and cause problems for the bamboo.
During my use, the bristles never bent or became damaged, which is a good sign.
The neck is nicely tapered and provides strength when needed, though this feature did cause the brush to have limited flexibility overall.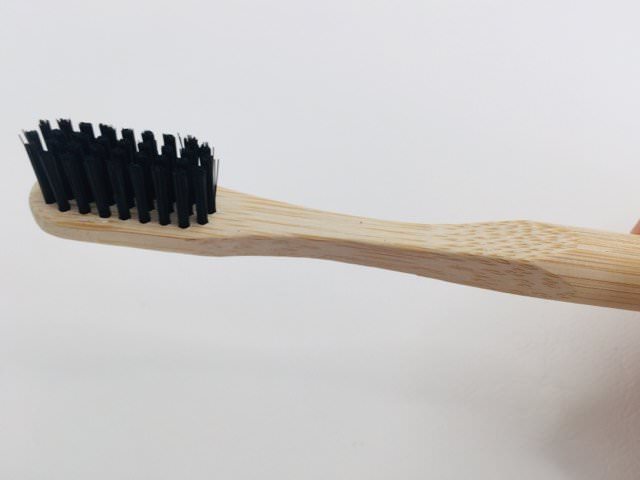 The head of the brush, I found was a little bulky in your mouth, but I do have a somewhat smaller mouth.
So if you do have a smallish mouth, that's something to consider when you are looking at this brush.
Durability wise, it handled the testing period with easy and should be able to make it to the 3-month mark 'change up period' without any issues.
The brushing experience I found was good overall, and it did clean my teeth as I thought it would.
Toothbrush Options Discussed
Kappi bamboo toothbrushes come in 2 different adult size packs.
The first is a 4 pack (one toothbrush for each season or every 3 months of the year) and the second is a large 8 pack.
They also have a few different dental/bathroom hygiene packs available which are very handy.
As far as shipping is concerned, if you buy something from Kappi that's over $75, you're looking at free shipping across the board.
Anything under $75, you have a flat cap of $8 per order, and express shipping will run you at $14 per order.
Shipping will create a slight dent in the value of the brush as far as price is concerned. So you need to look at that, just as a whole when making a decision.
They can ship internationally as well, and it's free shipping over $200 or a flat rate of $30 for orders under $200.
More About Kappi
Kappi as a brand is all about spreading a zero-waste message and providing products that are helpful and better for the environment.
From Kitchen to Bathroom, to bags and bundles, Kappi is focused on dramatically reducing one's waste and impact on our planet.
If you would like to find out how to make your bathroom more sustainable they have a great article on their website with tips and suggestions that you can implement into your life.
They use sustainably made and produced bamboo from plantations in China that have been carefully selected.
"When we first started Kappi, we scoured Australia for manufacturers who could provide us with beautifully crafted products at a price-point that would be fair to consumers. Unfortunately, the way the manufacturing industry is structured here in Australia, it makes it nearly impossible for small-scale bespoke items to be manufactured at a price that is not prohibitive to the end consumer".
Due to manufacturing costs and setups, Kappi had to source alternative means outside of Australia for production.
"Our products are made from a few carefully hand-selected manufacturers in China. Emphasis has been made to ensure our manufacturers satisfy industry regulations and that employees are treated ethically".
Kappi also has a 100-day return/exchange policy which is really great for peace of mind.
In 4 simple steps, you are able to return or exchange the item you purchased.
Contact Kappi to organise a hassle-free return (info@kappi.com.au).
They'll send you all the info to return your item.
Once filled out just send it back to them.
Once they have received your return, we'll process your refund.
Price and Value
At the moment, Kappi is currently having a sale and you can pick up a 4 pack of bamboo toothbrushes for $19.95 (RRP $39.95).
That makes each, individual toothbrush priced at $4.98. I'm liking this value!
The 8 pack is marginally on sale at the moment, priced at $37.95 (RRP $39.95). The unit price works out to be $4.74.
I think the 4 pack is solid value, however, shipping must be included in this calculation.
Your standard cost for Australian wide shipping is $8 per order turning the 4 pack into $27.95. This increases each brush by $2 or $6.98 each.
The 8 pack with shipping is now $45.95 or $5.75 a brush.
At these figures, it still sets a Kappi bamboo toothbrush in the price range of many of the other bamboo toothbrushes on the Australian market.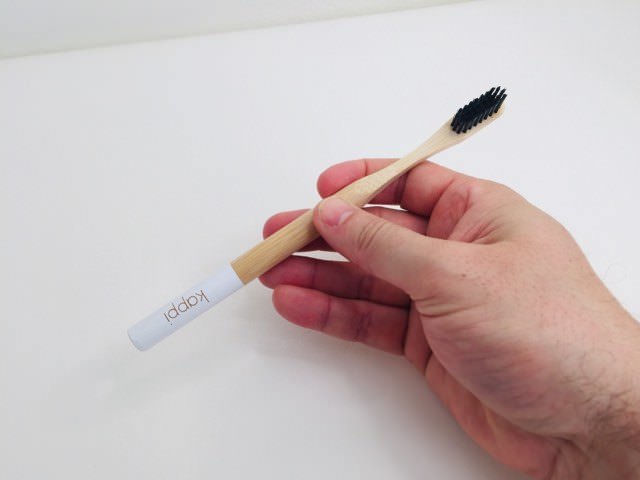 Overall
The Kappi bamboo toothbrush has many wonderful environmental benefits to it, namely, it is biodegradable and sustainably made, plus its also BPA free.
The toothbrush overall is very stylish and classy looking with some refreshing touches to its design.
The sustainable bamboo used is very soft and a pleasure to hold and I enjoyed the round shape of the handle.
The Nylon bristles are reasonably soft for medium firmness, which provided adequate cleaning of my teeth during testing.
Are you a bamboo toothbrush fan? What do you like about them? Let us know in the comment section below.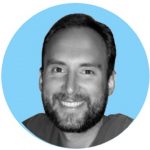 By Andrew Adams
Created at August 06, 2020, Updated at September 16, 2021