Colgate Cushion Clean Toothbrush Review
Colgate Cushion Clean Toothbrush Review
A modern and user-friendly design, Colgate's new toothbrush aims to provide a gentle yet thorough clean by reducing the size of the bristle head. This advantage gives us the ability to access ones back teeth, easily and effectively.
Pros
Soft and comfortable bristles are gentle on your teeth and gums
Able to reach back teeth easily, great for cleaning molars
Provides a polishing feeling when brushing
Cons
Doesn't clean inbetween teeth very well, bristles tend to stay on the outstide part of your teeth
Small brush head, so reduced cleaning surface
Non biodegradable
Technical Details
Dimensions

19cm long and 2cm wide

Notable Materials

Material unknown - Most likely a form of plastic

Manufacturing Country

China

Warranty Information
Full Review
If you are looking for a toothbrush that can get to your back teeth easily, this brush is a good choice. Need a smaller size brush head because you have a small mouth but don't want to buy a kids brush then the Cushion Clean Toothbrush by Colgate is something to consider.
Now, not all mouths are the same and when you want a smaller toothbrush for one reason or another, it can be a challenge to find it, especially one that cleans well.
Let's have an in-depth look at Colgate's new designed Cushion Clean toothbrush.
Packaging and Details
Taking Colgate's Cushion Clean Toothbrush out of its packaging was pretty easy. You just turn it over and open it up from the back. Some brushes can be an nightmare to get out of the packaging.. not this one.
The packaging itself is a very clean and the information upon it is easy to read. You can see the product very clearly and you now what you are buying.
Colgate mentions it's got "super dense thin bristles". And there's an asterix which then says "Versus Colgate, Extra Clean soft brush." So we'll have to look at that brush as well, at some point and do a comparison.. A brush off!!
Looking at the packaging, it's really nice, on the back it's got three main points about the brush.
3 Product Points
Seven times more tough density than the Colgate Extra Clean soft brush.
It's got a 3.5 millimetre thin head for easy access to clean back teeth.
Gently polishes teeth and massages gums.
Colgate prides itself in providing "oral education to over 13 million children across Australia and New Zealand".
That's great to know and it's fantastic they are giving back and supporting kids with their dental hygiene (even if it's to get them brushing with Colgate products).
It also stipulates "after use rinse toothbrush head thoroughly, shake off excess water and store upright". Important to know so the brush is kept clean.
The packaging also says, "Dentists and hygienists recommend replacing your toothbrush every three months". This is correct and not a marketing ploy.
Regards to product warranty, there wasn't anything on the package and unfortunately could't find anything directly associated with the brush itself. If you did have any issue with the brush you'd have to contact Colgate Australia.
First Impressions
The first thing I noticed when taking it out of the packaging was its weight. It feels extremely  lightweight. I'm actually really surprised how light this brush is. Feels like you could hold it forever!
It's a good looking brush, modern in design with a fresh new look to the typical toothbrush styles that are currently out there.
If I were to choose a word to describe it I'd probably go with 'ergonomic'. The shape and flow of the brushes' handle, along with the brush head itself,  is aesthetically pleasing to the eye and although the brush that I'm reviewing is pink (I'm not a huge fan of pink) it's a light pink that looks fairly glamorous, if one could say that about a toothbrush.
Design Features
When you're holding it, it has some raised dots that are on the front and back of the brush, in the grip zone. Just enough to count but nothing over the top like some brushes have.
The neck and head of the brush looks to be quite flexible giving the toothbrush the ability to slightly bend when it's in your mouth. Greater flexibility means greater accessibility. Thumbs up on this!
Bristles
The bristles itself are very high density (just as the packaging states) and seem to be designed in a smart way.
They feel soft but sturdy. Colgate has opted for one pink bristle section in the middle of the brush (pink colour option) and eight white columns of bristles around the outer area. The outer bristles are slightly raised which I hope provides a flossing action. We will see and time will tell. Stand by.
Bristles stand at 13mm high. I believe this may be a factor to clean back teeth. Shorter the bristle the better you'll be able to access difficult areas to reach. My thoughts anyway!
The Brush Head
The toothbrush head itself is much smaller than a lot of other brushes that I've seen on the market and Colgate has specifically designed it that way to give you access to the back teeth and hard to access areas, like your molars.
The shape of the head looks to resemble that of an electric toothbrush or something that's probably used more commonly in a dental office. Possible inspiration?
The foundation of the head is very thin at 3.5 millimetres and you can definitely see the advantage of a design like this.
If you flip the brush over you'll see that the bristles portray a gentle pattern which gives it a nice finishing touch.
Using the Brush
I think the best way to use this product would be just follow the dentists' and hygienists' recommendations for brushing. 2 mins and keeping the brush at a 45 degree angle and taking your time on the upper, lower front and back sections of your teeth.
The product is made for most people to use. People who have a small mouth or not able to be access certain areas of their mouths would greatly appreciate this brush, due to small head and condensed bristles.
If  you've got a disability and you need certain dental appliances, it may stop you from using this brush but saying that, it's reasonably easy to hold and grasp.
Testing the Brush
I've just brushed my teeth with the new Colgate cushion foaming clean toothbrush. My first impression while brushing has been a very favourable one. I'm quite happy with how it felt while brushing my teeth this morning.
I would say, it gets into the areas where needed. It's small enough to fit around your teeth and gums.
It feels like it massages your gums and teeth as you brush, and it does actually foam up the toothpaste that's in your mouth. So that's a good thing and an honest account by Colgate.
The bristles design is a little disappointing to be honest.
I found that the brush's bristles stay mostly on the outside of the teeth and it doesn't really get in between the teeth. This is an important point as that's where most plaque and tartar build up occurs.
I've interviewed dentists in the past and I know how strongly they refer to having something that not only cleans the outside of the tooth but in between them as well.
You may say interdental brushes are designed for that job and you'd be correct. But having a brush that gets in there like a interdental brush or floss is an amazing feeling and worth mentioning. So that's something to note. But overall it was a very pleasant brushing experience.
The flexible head and neck was surprising really good. It 'cushioned' the brushing forces that we humans tend to do. Most people apply a lot of pressure when brushing. They think the harder you brush the better the clean will be. Unfortunately this isn't the case and you could be potentially causing damage to teeth and gums.
My Partners Thoughts –  A Second Review
So what do you think after looking at this toothbrush, what's your first impressions of the brush?
I really liked the pink colour (how did I know you were going to say that babe). The top of the brush  looks like it might be similar to a kid's brush.  I think it looks like it would get into your back teeth really well, compared to those bigger brushes. I'd be willing to try it and see if it really gets to the back of my teeth where I always have problems reaching. Overall it looks good.
What do you think of the design of it?
I don't know why but it's so wide at the bottom (the handle), but I don't mind it. I guess it's so thin at the top to really get to those hard-to-reach places.
How do you rate the bristles after feeling them?
It feels soft, but not overly soft, which I quite like. I don't know if you'd have to use this alongside with something else. If this is just to reach those back teeth and then you'd use your regular toothbrush or not. It's something I'd have to try.
What was your first impression when using the toothbrush?
I really like it, it was great that it got all the way to my back teeth. It felt quite spongy and wasn't abrasive on my teeth. It was like I was at the dentist for a polish.
Was there any negative comments about the brush?
Just that it doesn't feel like it doesn't give as good a job on my front teeth as the back. Oh and it didn't brush in between my teeth as good. More on the surface of my teeth.
Price and Value
As of writing this review, the RRP is $5.99. This represents reasonable valve given that the brush gets into areas of your mouth that can be extremely hard for some other brands on the market to achieve.
We would anticipate that the price may reduce and discounts should be available through different online and retail stores Australia wide. So keep an eye out!
Usage Timeline
Initial Usage

Condition: Excellent

Enjoyed the feel of the brush in my hand
Reaches the back teeth with ease
Feels feel like it's staying on the top of my teeth and not getting in between my teeth

2 Weeks of Use

Condition: Great

The brush is cleaning my teeth well
The bristles are softening up nicely
Still feeling like it's staying on the top of my teeth and not getting in between my teeth

1 Month of Use

Condition: Great

The more I use this toothbrush the more I like it

The bristles are improving if that's possible?

Really loving the small neck and brush head, it's a huge benefit with this brush
Overall
All in all, it's an impressive brush, I must say. Colgate has really thought about what the customer would like in a brush.
Saying that the bristles could be better in getting in between teeth and accessing those small, tighter areas. But this one disadvantage is in the company of some quality advantages and benefits for the user.
The bristles do, however, improve as you continue to use the toothbrush. They soften up nicely but still provided enough support where needed.
Colgate's Cushion Clean toothbrush is a brush that you should try for yourself and see if you like it. $6.00 is pretty good for a 3-month dental investment.
If you have tried it and have feedback, please leave a comment below and let our readers know 😊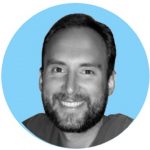 By Andrew Adams
Created at April 02, 2020, Updated at September 16, 2021