Bondi Smile Whitening – Alanna's 3 Week Kit Test
Bondi Smile Whitening – Alanna's 3 Week Kit Test
Bondi Smile is one of Australia's favourite whitening kit brands.
We asked a young lady by the name of Alanna to give us her feedback and thoughts on Bondi Smile's Teeth Whitening Kit.
We provided the kit to Alanna, she wasn't paid to review it, nor were we paid by Bondi Smile.
I interviewed Alanna recently and this is what she thought of Bondi Smile…
Our Reviewer – Alanna
Andrew: Okay. We're here with Alanna, who's been reviewing the Bondi Smile Whitening Kit over the past 3 weeks. So, Alanna, tell us a little bit about yourself?
Alanna: I am a 20-year-old woman, I'm a support worker, I love my coffee and I smoke, so I definitely need a whitening kit that's going to help me with that.
Bondi Smile First Impressions
Andrew: What were your first impressions when you first got the kit? What did you think of the packaging and the design of it?
Alanna: I thought it looked really cool. The box was really nice and looked new and fresh, and I thought that the inside with the packaging looked really cool as well. It came with clear instructions that had photos, and it was very easy to use.
Andrew: Have you tried any whitening kits before?
Alanna: I have, and I haven't found any that I thought worked before trying this one. I find that the Bondi Smile Kit that I've used actually made a difference. I've tried whitening strips, toothpaste, and some of the LED ones, and I haven't really found any that worked.
Usability of the Kit
Andrew: What did you think of the usability of the kit?
Alanna: I thought it was super easy to use the actual syringe, just to rip the top off, and it shows you how much to put in.
I didn't have to mould my teeth to the mouth tray, it's one of those one size fits all, universal types, which was great!
The instructions were really clear and I didn't find it hard to follow at all, which was good.
Rating the Bondi Smile Kit
Andrew: What would you rate the packaging and design of the kit out of 10?
Alanna: I'd probably give it a 9, to be honest. I thought it was super up-to-trend and stuff and had a nice photo on the front. Super easy.
Andrew: And the usability of it?
Alanna: Yeah. Probably give it a nine out of 10 as well.
Andrew: The instructions?
Alanna: 10 out of 10.
Andrew: 10 out of 10? Wow, that's great to know!
Alanna: Yeah. It was super easy to follow. There wasn't anything that I had a hard time following. It was like point one, two, three, and then photos and stuff as well, which is super awesome.
Concerns and Advantages
Andrew: Was there any concerns or disadvantages while using the kit?
Alanna: I have quite sensitive teeth, so I was a bit concerned that it might make my teeth more sensitive, but I haven't found that it made it any more sensitive, which was good. But no other concerns or disadvantages, really.
Andrew: Were there any advantages to using this kit that really jumped out at you?
Alanna: The LED light. I've used strips before and just leaves them on your teeth, but the actual light actually activates the ingredients in it and stuff.
Andrew: And you found that worked?
Alanna: Yeah, I like the LED light. We used it for 10 minutes, which I find… there are kits that probably use about half an hour and stuff, but I think the 10-minute intervals… because you can use it in the morning or before bed and stuff, which is super easy.
Results Discussed
Andrew: And your results, what did you think? Do you think your teeth got whiter?
Alanna: I think it did. I've taken photos from before and after, and I would probably say it's lifted at least two or three shades, considering I just smoke and coffee and stuff. But I have definitely seen a difference, even people complimenting my teeth, which is great.
Andrew: They definitely have got whiter.
Alanna: Thank you.
How Long did Alanna Use the Kit?
Andrew: So how long did you use it for and what was the timeframe etc?
Alanna: Probably took me about three weeks to finish it, but I wasn't using it every day. I think I did it at least twice a week, which I think helped because I didn't want my teeth to get too sensitive and strip and stuff like that. But I think the number of times I was using it a week really helped; two times a week.
Andrew: So, it was like a longer timeframe but keeping consistent?
Alanna: Yeah, consistency, but even after the first go, I saw a difference. Then, the second time, it gradually got better and stuff. You could probably use it more than twice a week if you really wanted to, but I think that would work for me, using it twice a week.
Andrew: Oh, great. Thanks very much, Alanna.
Alanna: You're very welcome. Thank you.
Overall
As you can see, Alanna thought very highly of the Bondi Smile Teeth Whitening Kit.
She really loved how easy it was to use, with simple and clear instructions that scored a perfect 10 out of 10!
The application, she thought, was easy as well, giving it a 9 out of 10.
Even though Alanna used it a couple of days throughout each week, and over a 3 week period, her teeth were 2 -3 shades whiter. I can confirm this was the case!
If you are wanting more details on the Bondi Smile Teeth Whitening Kit, you can check out our complete and in-depth review of this great Australian whitening kit here.
What are your thoughts on Bondi Smile?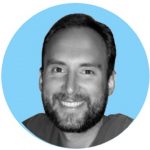 By Andrew Adams
Created at July 01, 2020, Updated at September 16, 2021