Bamboo Charcoal EcoToothbrush Review
Bamboo Charcoal EcoToothbrush Review
The Bamboo Charcoal EcoToothbrush has some really great environmental and dental benefits.
With bamboo charcoal-enhanced bristles, a curved handle and eco-friendly properties, this Bamboo Charcoal EcoToothbrush is remarkable, to say the least.
Pros
Ultra-fine enhanced BPA free polymer bristes makes brushing enjoyable
Sleek and practical MOSO bamboo handle which is 100% biodegradable
Comes in both soft and medium types of toothbrushes
Cons
The bamboo if left in water or a damp area will potentially cause the toothbrush to discolour or turn mouldy
You need to dry the brush after each use, this applies to most, if not all, bamboo toothbrushes
Technical Details
Notable Materials

Charcoal enhanced BPA free polymer bristles, MOSO bamboo handle

Manufacturing Country

China - Fair Traded

Warranty Information

Australian consumer warranty
Full Review
The Bamboo Charcoal EcoToothbrush comes with ultrafine, charcoal enhanced bristles and a new and improved curved MOSO bamboo handle.
My first impression when I looked at it and tried it was just, "Wow!"
In this review, I will focus on the adult brushes in the range and discuss my thoughts on the packaging, bristle technology and how this toothbrush performed overall.
A quick note: This isn't a paid sponsorship. We reached out to EcoToothbrush who gifted these products to us so that I could review it.
Packaging and Design
The toothbrush came in a recyclable cardboard box, which had a sleek design and was compact.
Using simple colouring, it highlighted the slight bamboo features in the background and the leaf as the logo.
The information that is printed on the box is very easy to understand and to read.
This Bamboo toothbrush comes in three options;
Adult Soft
Adult Medium
Child Soft
Now most dentists will recommend that you have a soft toothbrush, it's preferred and recommended.
However, Ecotoothbrush has confirmed that they do have roughly 45% of people wanting a medium toothbrush.
Now, the medium is still medium, but in my opinion, it's still reasonably soft.
If you are wanting soft bristles but with a little more structure, then the medium is a great option in the range.
I enjoyed using both the soft and medium Bamboo Charcoal EcoToothbrush
Bamboo Charcoal EcoToothBrush
This toothbrush has somewhat straighter edges than other bamboo brushes on the market.
It's got the Ecotoothbrush emblem and logo printed on the base of the MOSO Bamboo handle, with either an S or M, for soft or medium firmness.
The EcoToothbrush Handle
I really got a kick out of this bamboo toothbrush because it is smaller and more slender in the areas that need to be.
The handle's nice and easy to hold, it's extremely lightweight and a breeze to brush with.
Overall, I was really impressed with the design and the style of the toothbrush.
As far as dimensions are concerned, it's super compact.
The neck and head are small, creating a nimble feeling that's easy to move in and around your mouth.
I've got a somewhat smaller mouth and I was having slight issues with some of the other bamboo toothbrushes, as far as access to the hard to reach areas etc.
With the EcoToothbrush, I never had a problem while I brushed.
MOSO Bamboo Handle
If you're not sure what MOSO bamboo is, don't worry I didn't either when I first started trying bamboo brushes.
MOSO is a type of bamboo that grows really fast and which, apparently, Pandas don't like to eat.
Bamboo is part of the grass family and not a tree, even better for the environment!
The good news is that the handle is 100% biodegradable, you just need to remove the head of the brush before recycling it.
Charcoal enhanced Bristles
They are probably the best charcoal enhanced bristles or bamboo toothbrush bristles I have tried to date.
I really thought highly of them.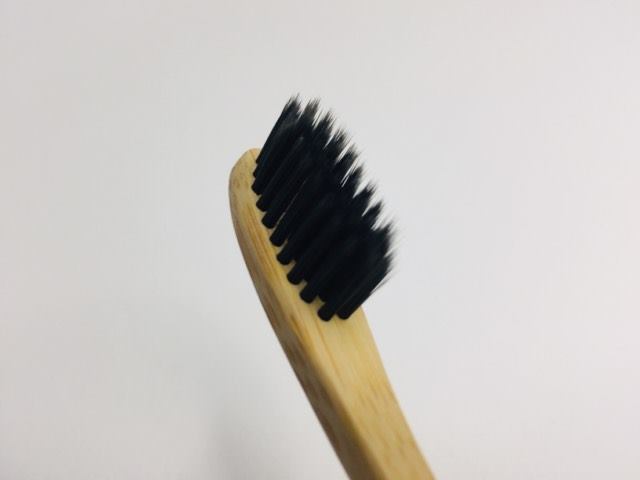 "The bristles contain charcoal reactive ion which can easily adsorb the dental plaque on the surface of teeth to make teeth healthy and white".
EcoToothbrush states 3 points about the toothbrush;
Charcoal enhanced Toothbrush aids in mouth odour control and cleans the mouth
Helps prevention of tooth decay
Has a strong tooth whitening effect and freshness after brushing.
Ultra-fine bristles that are staggered at different lengths makes this brush outstanding in my mind.
The bristles which are made from a BPA free polymer are almost flossing in nature when you're brushing, soft and gentle on your teeth and gums.
Just what a toothbrush should be, as recommended by many dentists.
Price and Value
There are a few options when deciding to purchase this bamboo charcoal toothbrush.
Firstly, is to buy direct from EcoToothbrush online and offer customers a 12 pack at $39.95.
This makes the unit price of this wonderful toothbrush only $3.33. This is great value for money in my mind.
Each toothbrush is boxed separately and comes in a larger box that's reasonably compact in its own right.
Secondly, if you are after single purchase options, you can pick it up in-store or online at Harris Farm, or at one of the bigger eco online suppliers like Flora and Fauna.
Thirdly, you can also purchase these brilliant brushes at www.gogreenathome.com.au, who offer either 2, 6 or 12 packs.
I found the best value is buying a 12 pack from either EcoToothbrush or Go Green at Home online.
But if you are wanting to try it, then selecting an individual brush or 2 pack is also a great option for a little more at checkout.
About EcoToothbrush
The bamboo Charcoal EcoToothbrush has evolved over a period of 12 years.
The original Environmental Toothbrush (another bamboo toothbrush in the company's range) was designed and created by Dr N Taylor, a Dentist on the south side of Brisbane, over 12 years ago.
Dr Taylor was selling them as part of her dental practice with a website and supplying a few stores in the Brisbane area.
The current owner of EcoToothbrush, James Wilson saw the benefits of this toothbrush, both dental and environmentally, and was able to secure the Environmental Toothbrush business in 2010.
From there, the idea of the EcoToothbrush was developed and instead of remaking the existing environmental brush, a new bamboo charcoal toothbrush was created with a smaller head, curved handle and staggered bristles that were extremely fine.
The Ecotoothbrush is distributed and sold throughout the world and is available online and in retail stores.
As companies transition to a more 'eco-friendly' product range, it's quite evident that bamboo as a material is attractive.
"Bamboo handled toothbrushes are popping up everywhere all over the world – even the major companies have decided to add a bamboo handled toothbrush to their ranges. We believe this is fantastic because the more bamboo handled toothbrushes that are out there the less plastic is making its way into the environment".  James Wilson
Overall
The Bamboo Charcoal EcoToothbrush was one toothbrush that I really thought was a complete package.
Not only did the toothbrush excel when I used it, I was reminded every time I brushed, that I was making a small but important difference to the environment.
The bristles, I felt, were perfectly designed for cleaning teeth and gums in a gentle fashion.
Having both soft and medium types in the range should give consumers a solid choice when buying this toothbrush.
It's reasonably priced and offers value.
I would definitely recommend trying this bamboo Charcoal toothbrush if you are thinking of an alternative material for your toothbrush.
What are your thoughts on bamboo as a material for a toothbrush?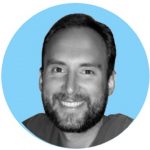 By Andrew Adams
Created at August 12, 2020, Updated at September 16, 2021