Dental Care for Seniors – The Definitive Guide!
Dental Care for Seniors – The Definitive Guide!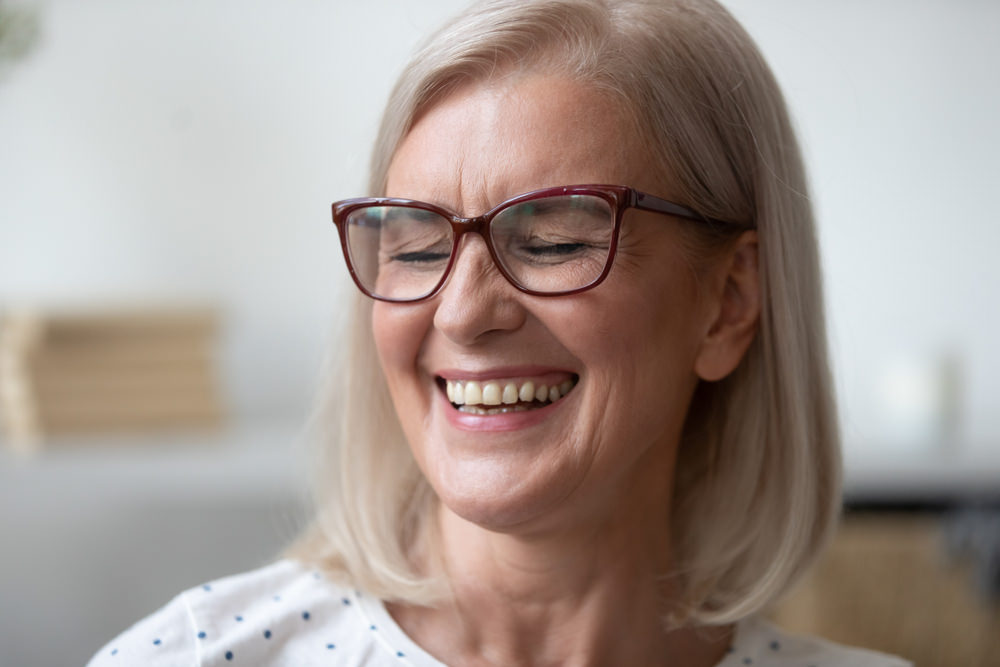 So, you may be wondering – is dental care for seniors really that important?
The answer is – if you can afford it, yes.
With the majority of dental benefits not covered by Medicare, all older adults still need at least a yearly check-up for the sake of their dental, as well as general health and well-being.
If you're over 65, there's a slightly more than half (51%) chance of you having dental insurance.
That's if you have teeth.
If you do not have teeth, there's a one-quarter (25%) chance, that you have dental insurance.
So today we talk about how to reconcile these needs with the ability to afford and access dental care once you begin to age, and how you, or those important to you, as a senior, can find dental care without insurance.
Why is it So Important for Older People to Visit the Dentist?
Fact: Older people are more often affected by poor dental health than the younger generation.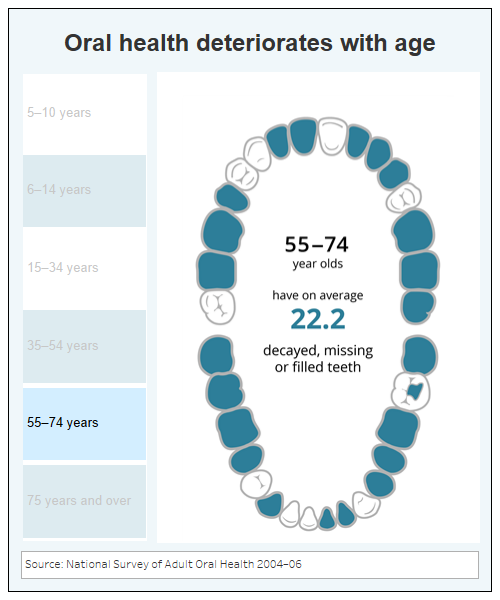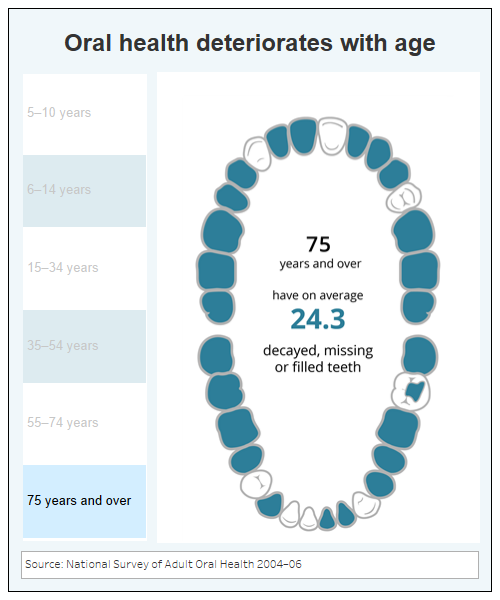 Dental services are treatments that are provided in order to improve oral health and reduce the risk of oral diseases.
As more people are retaining more of their teeth into old age, this is likely to increase a senior's need for dental services.
For example, in 2013, 42% of people aged 65 and over who had some natural teeth also wore dentures.
In 2013, approximately 7 in 10 people over the age of 65 reported visiting a dentist in the last 12 months.
Increasing from 6 in 10 in 1994.
The increase in the dental visiting pattern throughout the decade could be considered 'better'.
In 2013, almost half (48%) of people aged 65 and over who had any natural teeth (otherwise known as dentate people) were visiting a dentist once or more per year and had a usual dental provider.
For their most recent visit, 53% of older dentate people reported check-up as the reason.
Whereas, when people's reason for last visiting a dentist was instead a dental issue, the average number of visits was higher.
Often, seniors have more than one severe disease, requiring them to take several medications.
These medications can give them side effects including a dry mouth, inflammation, infections, and mouth sores, all of which puts their oral health at serious risk.
It can also have consequences on the health of their entire body, and their quality of life.
There is a significant link between oral health and diseases including diabetes, heart disease, reflux, respiratory infections and possibly even Alzheimer's disease.
A dentist is often the first person to notice the signs of these diseases.
As older adults are retaining their teeth longer, their Dental care has become more complex.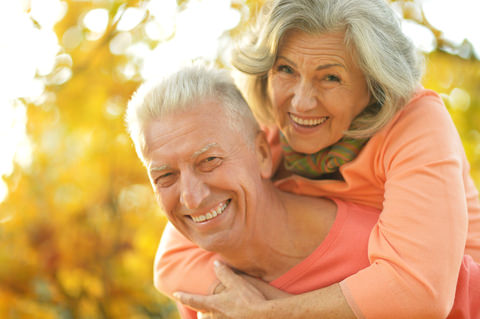 There is a concept that if you do not have teeth, you do not have to visit the dentist.
This concept, however, is incorrect – it's still essential to get an annual oral cancer screening and both soft and hard-tissue exams.
With time, dentures become poor-fitting and broken – they cannot last forever and will need to be replaced.
Ill-fitting dentures can cause serious health problems, problems with chewing, which will lead to a bad diet and thus poor nutrition, problems speaking, and poor self-esteem.
4 Other problems that will arise from seniors not visiting the Dentist:
Oral disease – Dental caries (tooth decay) and periodontal (gum) disease, which can lead to mouth ulcers, oral cancers, tooth impactions, misaligned teeth, traumatic injuries to the mouth and teeth, problems with eating and speaking, and discomfort with socialising.
Toothache – Studies done in 2013 reported around 1 in 10 (9%) dentate people aged 65 years and over experiencing toothache (similar to 2010 findings in which 10% aged 65 and over reported experiencing toothache). Older people who did not have insurance were more likely to report experiencing toothache than those who did (10% compared to 8%), as were those older people eligible for public dental care (9%) compared with those who were not (8%).
Dental appearance – Studies done in 2013 reported that 2 in 10 people aged 65 and over (22%) were uncomfortable with their dental appearance (down from 24% in 2010). Women aged 65 and over were more likely to feel uncomfortable than men (26% compared with 17%), and older people in remote/very remote areas were much more likely to feel uncomfortable than people in major cities (37% compared with 21%).
Dietary restrictions – Studies done in 2013 showed women aged 65 and over were more likely to avoid eating certain foods due to issues with their teeth than men (26% compared with 20%).
For full results of the survey visit www.aihw.gov.au
In 2013-14, oral conditions and diseases had a significant social impact.
They were responsible for more than 8,000 hospital separations for people aged 65 and over, where the hospitalisations were considered to be possibly preventable.
The number of possibly preventable hospitable separations for older people had increased by 38% since 2007-08.
Potentially preventable hospitable separations due to dental conditions for people aged 65 and over, from 2007-08 to 2013-14;
How many Seniors Actually Have Dental Insurance?
Studies done in 2013 showed that half (50%) of people aged 5 and over had some form of private health insurance, including dental cover.
More people living in Major Cities (53%) had insurance than those in Inner Regional (45%) or Outer Regional areas (44%).
Lower-income households were less likely to have dental insurance than higher-income households.
Overall, slightly more than half (51%) of older people with teeth, and one-quarter (25%) of older people with no teeth, had dental insurance.
The fact is, the older you get, with less income coming into your household, the less chance you have any chance of Dental insurance – especially if you live in a regional area.
Seniors in their late 60's or early 70's may have reached a situation where they do not have a fixed income and cannot afford dental insurance.
As that person ages, other factors contribute to them failing to access dental care.
Those over the age of 85 have increased frailty, lack of mobility, loss of independence, loss of income, problems gaining transport, and difficulty accessing dentists that are actually able to provide for their needs.
How can Seniors access Dental Care if They Don't Have Insurance?
Dental treatments are normally only covered by Medicare if they are considered essential for the patients' wellbeing.
As such, most general dental examinations and treatments are not covered by Medicare.
It can surprise older people, and so they're not prepared.
Many people simply assume that dental services for pensioners are covered by Medicare.
It is the cost of dental services that are frequently reported as the barrier to accessing services.
Studies done in 2013 showed that 29% of people aged 65 and over whose annual household income was below $30,000 avoided or delayed Dental visits, in comparison to 14% of people whose household income was $60,000–$90,000.
Similarly, 32% of people aged 65 and over who had no dental insurance avoided visiting a Dentist.
In comparison to those who had insurance, which was only half of this (15%).
Although Medicare only covers certain essential dental treatments, the Federal Government does provide funding for eligible adults through the Child and Adult Public Dental Scheme (caPDS).
From 2017, this scheme began to assist states and territories by providing public dental services for adults with concession cards.
Its aim is to try and improve the dental health of those who cannot afford dental insurance.
Many seniors are unaware that they are eligible for discounted denture services, including specialist dental care.
For more details on public dental services in your state or territory, visit your State Health Department's website, which you can find on www.health.gov.au.
Publicly funded dental care is for low-income households, with aged pensioners eligible for services at minimal or no cost.
However, public dental clinics may not always offer a full range of services, such as preventative dental care.
Also, the waiting list at public dental clinics can be very long, which results in issues worsening whilst waiting.
This is as, in Australia, most dentists (85% in 2013) work in the private sector as general dental practitioners.
Specialist Dentists made up 10% of registered dentists.
Only around 5% of registered Dentists were employed in hospitals in 2013.
According to the 2012 Survey of Disability, Ageing and Carers (SDAC), among people who had used dental services in the last 12 months in 2012, 1 in 10 (12%) people aged 65 and over had received public dental care.
Women were slightly more likely to report receiving public dental care (12%) than men (11%), and this pattern was more evident in some age groups than others.
The proportion of Older People who Received Public Dental Care in 2012;
(a) People who had seen any dental professional in the last 12 months and last received care through a public dental clinic.
For full results of the survey, please see www.aihw.gov.au.
Conclusion
Although some help is out there for those seniors who do not have dental insurance, it is minimal and inconsistent throughout each state and territory.
As a dental profession, we must do a better job educating and preparing our patients for what to expect when they age.
If prevention, rather than cure, is enforced throughout all stages of life, when people reach their senior years, they should not only have healthier teeth, they should be prepared for what is to come.
Information sourced from;
https://www.aihw.gov.au/reports/older-people/older-australia-at-a-glance/contents/health-functioning/oral-health-disease
https://www.aihw.gov.au/reports/older-people/older-australia-at-a-glance/contents/health-aged-care-service-use/dental-services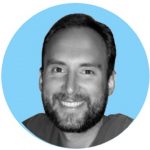 By Andrew Adams
Created at October 16, 2019, Updated at October 13, 2021